Experian's BusinessIQ Express Helps Small Businesses Manage Cash Flow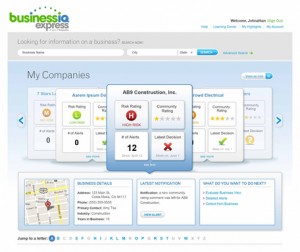 If you're a small business and finding it difficult to manage your cash flow, here's something you may want to check out. Information services company
Experian
earlier today launched
BusinessIQ Express
, a complete online tool that helps small businesses
improve cash flow
by empowering more informed decisions about your business customers, suppliers and partners. The idea is that the suite of tools and information provided to help you evaluate and monitor those business relationships to help support profitable growth, as well as collect on those receivables and avoid future losses. If you suspect that irksome customer is costing you money - you know, those that take up 80% of your time and provide only 20% of your revenue -
BusinessIQ Express
should be able to show you exactly if they are. The three key ways
BusinessIQ Express
help you manage those customer and vendor relationships:
Evaluate — Evaluate prospects, customers, suppliers and partners on likelihood to pay or deliver on time.
Monitor — Monitor business relationships with alerts and notifications of key changes, so you can take appropriate account actions and maintain beneficial relationships.
Collect — Options to help collect on outstanding debts and avoid future losses.
"Maintaining a profitable business is a challenge that all business owners face. Small-business owners especially feel this pressure because access to tools that enable them to effectively manage their business relationships have been too costly, too complex or too difficult to use," says Adam Fingersh, senior vice president of Experian's Business Information Services. "We designed 
BusinessIQ Express
to address these challenges and level the playing field for small businesses as they compete in the marketplace with larger businesses that have historically had access to these types of tools and resources."
Daniel Goh is the founder and chief editor of Young | Upstarts, as well as an F&B entrepreneur. Daniel has a background in public relations, and is interested in issues in entrepreneurship, small business, marketing, public relations and the online space. He can be reached at daniel [at] youngupstarts [dot] com.