41 Thought Leaders On Globalization And Leading Digital Talent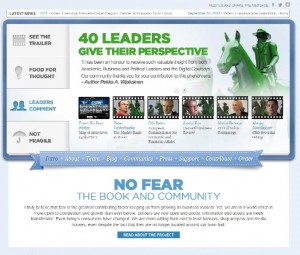 The world has been undergoing a rapid pace of globalization especially in the past few decades, but what will its next phase be like? How would globalization impact on talent flow, particularly on highly mobile, digital-savvy yet picky professionals with the world as their oyster? Well, 41 global thought leaders share their personal views on the next phase of globalization, the increasingly competitive talent wars and the rise of the new digital generation in a newly-launched series of video interviews at the
No Fear
community site. Some of the interviewees featured include Justin Fox of the
Harvard Business Review
, Bill Fischer of
IMD Business School
, Olli Rehn of the
European Commission
,
Rovio
's Peter Vesterbacka, and
GE Capita
l's Holger Laubenthal, amongst others. "It has been an honor to receive such valuable insight from top academic, business and political leaders, as well as the 'Digital Cowboys' themselves. My dream was to facilitate some new thinking and knowledge-sharing. Our whole economic system is currently living in the eye of a hurricane. Growth, modern leadership and regaining trust are the only way out," says Pekka A. Viljakainen, facilitator of the
No Fear
project. All the video interviews are freely available on YouTube and there is a free, global discussion forum for these topics at
No Fear
.
Do also check out an interview I had earlier with Pekka A. Viljakainen about his project (Part I, Part II), as well as my review of his book "No Fear: Business Leadership for the Digital Age".
Daniel Goh is the founder and chief editor of Young | Upstarts, as well as an F&B entrepreneur. Daniel has a background in public relations, and is interested in issues in entrepreneurship, small business, marketing, public relations and the online space. He can be reached at daniel [at] youngupstarts [dot] com.