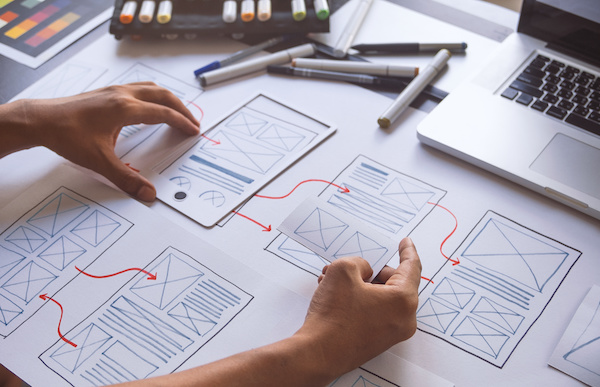 With most people looking for dental services online, having a great website for your dental practice can't be stressed enough. A good dental site builds your practice's online presence and gives it more credibility. Unlike traditional marketing alternatives, a properly designed dental site cost-effectively markets your dental practice, guaranteeing a high ROI. In addition, it gives your brand a more modern, professional appearance, which is key to attracting quality clientele.
A successful dental site should have the right qualities. Outlined below are five characteristics of a great dental website.
1. Good speed.
How fast your dental website loads significantly impacts its rankings on search engines and the time prospects and site users spend on the site. Website visitors expect your dental site to load fast, with statistics indicating that 53% of mobile users abandon websites that take more than three seconds to load, increasing bounce rates, which can negatively impact your practice's growth. From an SEO perspective, slow websites impair user experience, and since it's a priority for search engines, your site will be ranked low if it consistently loads slowly.
If you're using a shared hosting plan, it could be the reason for your slow speed. As such, look for quality dental website hosting providers offering dedicated servers. The best hosting provider should have a large hard drive and significant bandwidth. Additionally, it should support the traffic your dental site receives and have powerful RAM. Compressing your images to reduce their sizes can also improve the site speed.
2. Premium quality content.
For a successful dental practice SEO campaign, your website should have top-quality content. It should be valuable and helpful to your dental website users. Publishing premium quality content on your dental website establishes you as a thought industry leader your website users can trust. If users and prospects find your content engaging and relevant, they will spend more time on your site and even convert into paying clients. With good-quality dental content, other authoritative sites in your industry will likely link to your website. This gives Google and other search engines a confirmation that your dental content is authoritative and informative, boosting your SEO rankings.
3. Website security.
Web security is vital to safeguarding your dental practice from cybercriminals and building client trust. If your dental website is insecure, prospects won't feel safe interacting with your brand online. Google sends users to secure websites because they guarantee a safe browsing experience. This means an unsecure dental website won't rank high on SERPs. A secure website:
Builds confidence in your dental practice: Your patients will have confidence in your practice if they're assured of

data privacy

and security and that their details won't be compromised via data breaches

Betters search engine rankings: Search engines give a ranking boost to dental sites that safeguard users' information. As such, securing your dental site raises your search engine rankings
Secures online sales: For dental practices that sell oral care products online, providing safe e-commerce transactions is a must. If your practice requests for credit card details from its clients, the Payment Card Industry Security Standards Council needs your site to use SSL to encrypt credit card data. Ensuring a secure dental site safeguards your online sales

Ensures compliance with government regulations: HIPAA requires healthcare providers to implement safeguards to ascertain the integrity and security of health details shared online. Securing your dental website ensures your site is

HIPAA-compliant
4. Easy navigation.
A survey found that 94% of consumers expect your website to be easily navigable. This emphasizes how important it is to ensure your website is easy to navigate as users can easily find anything they're looking for. Your dental website's goal is to convert leads into paying customers. To achieve this, your site visitors should enjoy navigating the site. Ensuring easy website navigation:
Extends visit duration: If users find your dental website easy to explore, they'll stay longer, reducing the risk of bounce rates, which can negatively impact your practice's SEO
Creates a good user experience: A good user experience makes visits to your dental website memorable for your site visitors. This boosts the likelihood of users returning to your site whenever they have relevant questions
Lowers bounce rates: An easy-to-navigate website experiences low bounce rates, meaning few visitors will abandon your site without exploring or taking action. High bounce rates signify an unhelpful site, which could negatively impact your SEO

Increases users' responsiveness to CTAs: If your dental site has easy navigation and is helpful, users will develop a relationship with your practice by interacting with your CTAs. Tweaking your CTAs to ensure they resonate with each page's content can boost users' responsiveness to your CTAs. Positioning your calls-to-action as solutions and not sales can also help
5. Mobile optimization.
Most people depend on their mobile devices to look for services and information, making it paramount for your dental practice to optimize its site for mobile. This boosts the possibility of your dental website appearing high in search engine rankings, attracting more prospects to your practice. Mobile optimization makes your dental website more user-friendly and offers optimal viewing experiences across various screen sizes and devices.
When you optimize your site for local mobile searches, organic search traffic from those looking for local dental services rises. This enables prospective customers to find and get in touch with your practice. Optimizing your dental website for mobile gives you a competitive edge over other dental practices that are yet to and boosts conversion rates.
Endnote
A good dental site is vital for your practice's online success. Consider analyzing your dental website to ensure it has all the best qualities.