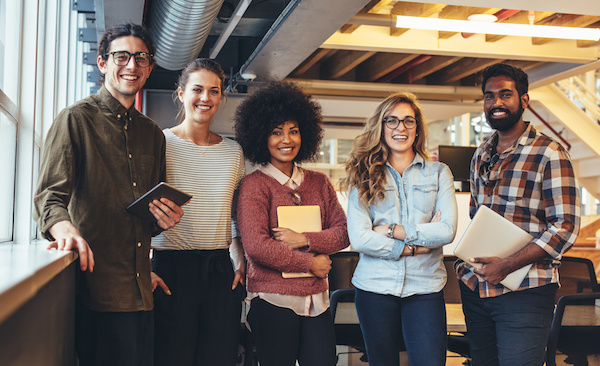 by Cynthia Owyoung, author of "All Are Welcome: How to Build a Real Workplace Culture of Inclusion that Delivers Results"
We need to talk about the layers in between executives and employees — basically all the people, or middle managers, as they are often referred to, who manage other people. How do we get them involved in supporting DEIB? I have found that a combination of setting the right expectations along with accountability mechanisms, as well as creating opportunities for training and deliberate practice, is key to engaging managers in DEIB work.
Managers are the focus of our attention because they are the linchpins that drive employee productivity and loyalty to the company. According to global analytics and advice firm Gallup, people leave managers, not companies. In their study, one out of every two employees said they had left a job to get away from a manager. So we need to equip managers with a skill set to support and manage a diverse team effectively.
When leaders are up front about their commitment to DEIB and set an expectation that all managers at the company must engage in nondiscriminatory behavior and demonstrate inclusive leadership skills, it holds managers accountable. As leaders set DEIB goals for their organization, managers need to translate those into their own goals for the period. Leaders should also hold regular operating reviews of how their organization is doing against their goals with their managers so that everyone has shared understanding and accountability for progress or the lack thereof.
Depending on their experience level, managers are also often ill-equipped to handle difficult conversations about DEIB or manage across differences effectively within their teams. It's imperative to offer training in inclusive leadership skills for managers as part of an overall manager development program. These inclusive leadership skills can be integrated into an existing manager effectiveness curriculum or taught separately as stand-alone modules, but they should align with your overall management philosophy.
It can also be helpful to do an assessment of inclusive leadership behaviors prior to the training, just to understand what level of capability your managers are currently functioning at. It can give you a better idea of what you need to do to shore up those capabilities, and it can prompt some interesting discussion among teams about different leadership styles and how to bridge them.
Another fundamental way to support and engage managers is to provide deliberate practice hours and individualized coaching opportunities. No one gets better at anything without deliberately having to practice it first. In his book "The Talent Code", author Daniel Coyle details how deliberate practice helps to unlock great talent. Giving managers the opportunity to practice new inclusive leadership skills within a controlled environment with constructive feedback that they can apply immediately increases their chances of a successful dialogue with employees on DEIB issues. Likewise, having coaching available to support manager efforts to reflect on deeply held beliefs and biases can support the inner work they need to do to unpack their behaviors and reinforce change.
It's also important to realize that despite your best efforts, you may not get everyone on board, and that's OK. At the end of the day, there will always be some segment of people who don't agree with how you're driving change in DEIB at your organization. But if you're able to get a majority of leaders, managers, and employees on board with your DEIB plan and supporting the changes you are driving, then you're likely to see progress over time.
*Excerpted from "All Are Welcome: How to Build a Real Workplace Culture of Inclusion that Delivers Results" by Cynthia Owyoung, pp. 87-89 (McGraw Hill, February 2022)
Cynthia Owyoung is the author of "All Are Welcome: How to Build a Real Workplace Culture of Inclusion that Delivers Results". Owyoung is Robinhood's Vice President of Inclusion, Equity and Belonging, supporting Robinhood's mission to democratize finance for all. She's also the founder of Breaking Glass Forums, where she develops strategies to accelerate more diverse leaders and inclusive organizations. Owyoung was named to Entrepreneur Magazine's 100 Women of Impact in 2021.