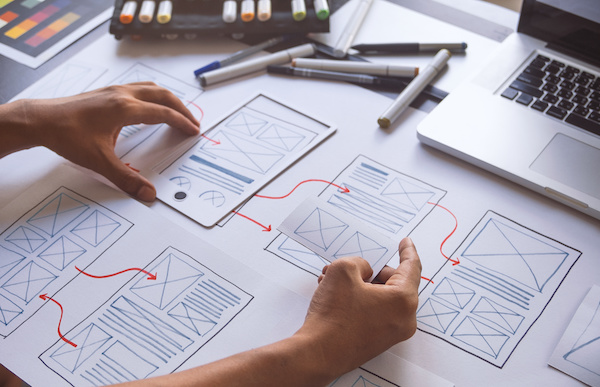 Working with an experienced B2B web design agency has a lot of benefits. You get access to a team of experts without having to take on full-time employees. You can also learn what's popular in design, going out of style, and successful for other B2B firms. You also get insights into key factors like UX best practices, design best practices, and more.  
But how do you choose the web design agency that's right for you and your project? It's important that both you and your web design agency are the right fit for each other to ensure a smooth, successful website design and launch.
Here we look at what you should be asking the B2B web design agencies you are considering.
Examples of Recent Projects?
Every professional website design agency has a portfolio of projects on their website. However, it's important to see recent projects that they've created. Ideally, they will have recently launched websites that are for firms in your industry or a similar industry, but if not, projects for other industries will work.
You want to ensure that they are continuously launching new websites and that the quality of recent websites matches the quality of the websites in their portfolio. This is especially crucial now as many firms are experiencing high turnover and may be subcontracting work to freelancers that they don't normally work with.
What Content Management Systems (CMS) Do You Work With?
If you have a preferred CMS that you want your website built on, make sure to ask that the agency has created websites with that CMS. For example, there are certain website design agencies that only work with the WordPress CMS while others may only create websites on a custom CMS they build from scratch.
This question is important if you plan on managing the website on your own after the website launch. A proprietary CMS that the agency builds means that you have to go back to them directly for any changes (and having to pay for the time to make changes), while an open-source CMS like WordPress means you can take the website with you and easily hire other experienced designers and developers in the future if needed.
What Industries Do You Have Experience With?
While an agency doesn't need to have exact experience with your products or services, they should have experience working with other firms in the same industry. While it's crucial they have experience with B2B generally, having experience with your industry can shorten the learning curve as your target market will have similar needs/wants to another company's audience in your industry.
What Are Your Typical Website Sizes?
There is a massive difference between a 10 to 15-page website and a 100 to 150-page website. Only seasoned design teams can manage the larger website designs and create cohesive designs that will translate across all those pages. Asking a B2B web design agency the average size of the website they work on also lets you know what resources they have available.
For example, an agency may have a huge portfolio of 20-page websites but no experience with a 100-page website. If that's the case, you'll be their test case for whether they can handle those types of projects. If you are up for the experiment, great! However, if you have a deadline or a critical internal review team, it's best to go with an agency that has the right experience to ensure a well-planned project.
Who Will I Be Working With?
This is a fantastic question that more firms need to be asking potential web design agencies. Why? Because many agencies take on or pitch certain projects that they have no intention of working – they plan on subbing out all the work to other agencies or freelancers. This can lead to a disjointed experience and lack of accountability on the agency's behalf.
An agency should be able to give you a clear picture of who you will be working with and who your main point of contact will be. They may have a few designers, developers, and writers on staff, so you may not know the exact person, but they should be able to share information on their team.
Finding an agency with the right fit should be a thoughtful process and personalized to your specific needs and requirements. By asking these questions listed above, you are on the path to getting that fantastic B2B web design you need.