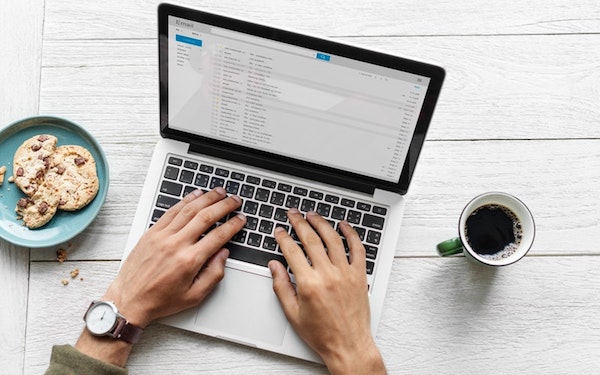 Marketing your mobile app through email marketing can be overwhelming.
The good news is, using the right strategies and tools can make running your email marketing campaigns simpler and more efficient.
Learn the tried and tested methods in this beginner's guide to email marketing to boost your app promotion, drive more app downloads, etc., to ultimately increase your revenue and grow your business.
Why email marketing for mobile apps is important
Here are a few key points as to why you should use email marketing for your mobile app.
It is low-cost but has a huge Return on Investment (ROI) potential.
On average, every dollar you spend on email marketing earns you $40 in return.
This means you can reach thousands of prospects, generate leads, and convert them into customers at low costs with email marketing.
The best part is, the strategies to achieve positive email marketing ROI isn't rocket science. Just be mindful of your email lists' pain points then write email content that directly addresses them. If you do that, your chances of getting your email recipients to take action on your offers drastically increases.
It helps you target the right audience.
Email marketing lets you target potential app users by segmenting your audience based on specific demographics and sending them highly-relevant content.
This helps you deliver the right marketing message to your target audience at the right time, which can increase your app downloads and use and boost your conversions.
It gives you access to wider audiences.
Your email campaigns can reach thousands, if not millions, of prospects worldwide within seconds.
This increases your audience engagement opportunities, helping you lead more contacts into downloading and using your app and raising your conversion rates.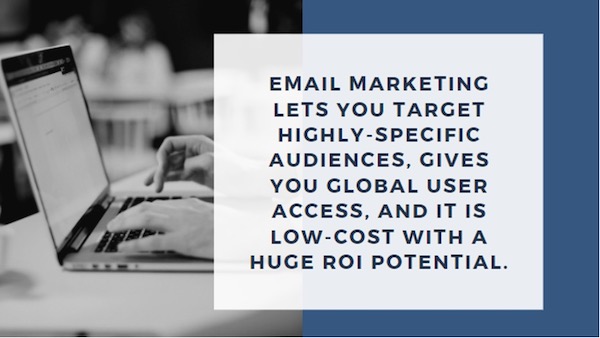 1. Set tangible goals.
If you're not new to applying evergreen marketing tips for email marketing, chances are, you know the basics of building an email list and other aspects of running email campaigns.
However, your email marketing for mobile apps requires careful planning to bolster your strategies and avoid repeating mistakes from your previous or even current campaigns.
Set proper objectives by asking why you want to market your app. Is it to increase audience engagement and revenue? Do you want to achieve company-wide growth?
Answering these questions helps you lay down the foundations of your approach, find the right tools to support your email marketing strategies, and even assign achievable numbers to said goals.
Pinpointing exact figures for your goals, for instance, gives you tangible, measurable goals. You can also use the email campaign results to reassess your original goals and check if your strategies are working well or not to help you achieve your objectives.
Keep track of your email marketing goals and tasks easily using nifty project management software. The tool helps you organize, centralize, and manage your email marketing goals for easy reference when assessing if you're right on track.
2. Establish a pre-launch strategy.
After setting your goals, outline your email marketing campaign to establish the tone, look, and cohesiveness of your email's design, content, and more.
Choose an email service provider and start building your email list (if you haven't yet).
Selecting your email service provider (ESP)
Find an email service provider that best fits your business' needs, including your product, budget, email list size, and others.
Ensure your ESP offers must-have features to help you run your email marketing campaigns with ease, such as:
Templates.
Find an ESP that provides flexible layouts, a range of designs and customization tools, and mobile-friendly templates that perfectly display on different devices. This lets you create elegant and professional-looking emails quickly and easily.
Automation.
Streamline your email marketing workflows and send automated messages to the right audience at the perfect time by using an ESP with robust email automation features.
Marketing automation platform Omnisend provides pre-built automation workflows that let you set up welcome series or cart abandonment email campaigns in minutes.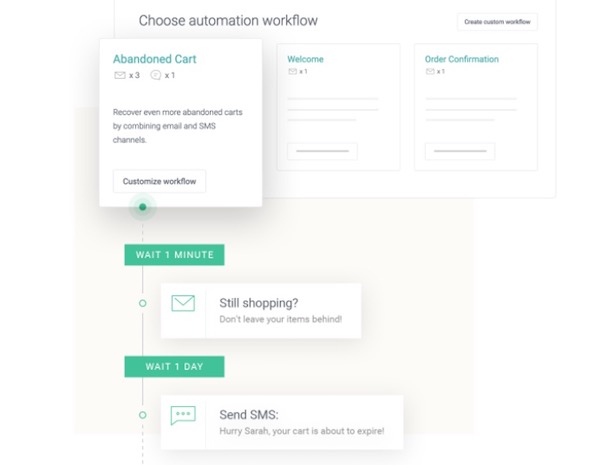 Building your email list
Implement foolproof strategies to gain subscribers such as launching newsletter popups on your website or mobile app landing page, running contests to capture participant emails, and more.
If you have an affiliated blog for your life coaching app, for instance, consider adding content upgrades, such as insider tips for finding the best life coach certification programs of 2020 to encourage your audience to subscribe to your list.
Designing for the mobile user experience
Plan your email marketing content's design carefully to ensure that users can read, navigate, download, and purchase easily, providing them with excellent mobile user experience.
Failing to do so would defeat the purpose of your email marketing for mobile since your email content and design could ruin your customers' mobile user experience.
To enhance your subscribers' digital experience, take advantage of top-notch content management tools. They help you produce, edit, organize, store, and optimize your email marketing content.
With these tools, you can design SEO-friendly digital content without the nuances of coding. They also offer insightful analytics, so you'll learn how to best improve your promotional emails.
Crafting your campaign calendar
Schedule the days and times (at least three months ahead) for delivering your marketing emails and performing other campaign activities.
With a campaign calendar, you'll have a solid guide for planning and delegating associated tasks. It can also support your evaluations since you can quickly track completed campaigns, sent messages, and their respective metrics — plus learn how to improve future activities.
Schedule your app's email marketing campaigns effectively with robust Gantt chart makers. They have excellent user interfaces and several practical functionalities to ease your work. They are also ideal for either solo or collaborative campaign management.
A clear schedule helps you set up everything necessary for your email campaign.
For instance, you can map out the timeline and consider all the related factors to you email campaign.
The factors can include your email content planning and the time it takes to create or buy carefully written content as part of your email marketing efforts.
3. Test your campaign.
Run previews and test your emails to help you identify potential gaps in your campaigns and refine your efforts.
For instance, testing your email marketing campaigns helps you gain insights into your prospects' preferences, ensure your email campaigns appeal to specific audience segments based on their location and other demographics, etc.
Perform an A/B test on your emails to send various versions of your emails to different subscriber subsets.
This lets you determine which variation of your campaign gets the best responses from your recipients, such as which emails get the most click-throughs.
Test specific elements, content, and design of your emails, including:
Subject lines.
Test the word order, content, and length of your subject lines to optimize them for better click-throughs and opens.
Start by creating two of your best subject lines for a specific campaign using subject line tester tools, then conduct split tests to see which one works best.
Visual elements.
Check which visual elements help reinforce your email content and copy best.
For instance, if you include stunning visuals that show a feature of your mobile app in action, test whether including a vector or image gets better audience responses.
Test other visual aspects of your email on top of writing better emails, including the style, colors, CTA buttons, and more.
Additional tip: Use marketing attribution software to help you determine which of your email marketing for mobile app efforts and other marketing campaigns contribute to or hinder your conversions and sales.
4. Protect your app and marketing data.
When running marketing campaigns for your app, you inevitably collect personal customer data and other valuable information. This happens usually when you display pop-ups inviting visitors to subscribe to your newsletters and give their names and email addresses.
As a new marketer, keep in mind that every time you gather and store critical data assets (plus  leverage it for revenue generation), you become a target for cyber criminals.
That is why you should prioritize security when running email marketing campaigns for your app — especially if you're obtaining data through it.
Doing this at the onset helps ensure your campaigns run more smoothly, undisrupted by cybersecurity incidents. It also keeps you from making costly mistakes that ruin your reputation and customer relationships and even shut down your business.
So, how to protect your app and email campaigns? If you created your app on Microsoft Azure DevOps, for instance, run frequent, automated Azure DevOps backup.
This technique simplifies and takes care of securing your code and data for you. That way, you can focus less on the tedious task and more on running effective promotional campaigns for your app.
What's next?
The tips in this guide are just the tip of the iceberg, and you can do so much more to develop a robust and successful email marketing for mobile apps strategy.
Establish goals, outline your email marketing approach, and test your campaigns and you'll be increasing your downloads, get customers to use your apps regularly, and boost your conversions and sales in no time.