by Shayne Tilley, Head of Marketing at 99designs by Vista
It's that time of year again, when many business owners and entrepreneurs start planning for product launches and brand refresh projects in the months ahead. Whether you're looking at a total brand identity overhaul, a light website update or a new logo for a side hustle, it makes sense to check in on the latest color trends before you get started. Knowing which hues are rising in popularity (and which are falling out of favor) can help keep your brand looking and feeling fresh. After all, an outdated look can turn off prospective customers and might even end up costing you a sale. 
For 2022, according to the global community of freelance graphic designers working on 99designs by Vista, the overall color trends in 2022 are mostly (with one notable exception) toward softer, simpler and less in-your-face hues than in recent years. More specifically, here are a few of the biggest trends you're likely to see everywhere this year: 
1. Adventurous pastels.
This is the year we'll see pastels taking a more playful, whimsical turn, for example pairing them with geometric shapes, line illustrations or paired with funky, maximalist patterns such as with this Fun Club logo and packaging design by Tika Design. 
Designers are also combining pastels with neons and playing with saturation to achieve a more energetic, vibrant and unexpected look that reinvents pastels as we traditionally think of them. This packaging for Luna Coffee is a good example. 
2. Muted, earthy tones.
In contrast to the neons and brash hues that have dominated design for the past few years, the current trend is taking a softer, rustic approach veering into a back-to-nature vibe. These nature-inspired color schemes such as the packaging for Bramley Mountain Coffee or the logo for Hidden Springs Resort, are an effective means of communicating natural, organic, even sustainable values for your brand. 
3. Jewel tones with neutrals.
Bold and deep, but also subdued and sophisticated, jewel tones convey a maturity and calm stateliness for brands. When paired with more neutral tones as in this Pivotal Tea packaging, jewel tones take on a particularly modern feel. 
4. Light and airy.
Calm and serene are overriding themes of 2022's top colors, and this means more minty shades, watercolor designs and eggshell finishes. Overall the effect is light, airy, gentle and cloud-like. This label for a Japanese plum wine or this Irish eco paint packaging illustrate the trend perfectly. 
5. Retro 70s and 80s.
While a movement toward serenity pervades 2022's design trends, it's not only about comfort through muted soft colors. Another trend that could be called soothing in its pull upon nostalgia to evoke happy memories of "the good old days" is the movement toward retro color palettes from the '70s and '80s. People naturally gravitate toward familiarity and comfort, and these hues such as this logo for a musical trio or this T-shirt design help them relax and have fun. 
6. Vintage flower power.
Another color trend likely to dominate 2022 involves the use of floral hues in toned down, muted designs that give the flowers a dried-out, slightly faded look. The overall feel is slightly vintage, worn-in and comfortable, like this logo design for an organic foods company, this sticker set for YouScan or this logo for a farm collective. 
7. Hyper-saturated color contrast.
We mentioned there was one outlier among 2022's biggest coming color trends and this is it. While most of the other hot color schemes for next year fall into the calm, muted category, these are the loud and dazzling contrast to that, pushing the boundaries of expected color combinations for an attention-grabbing effect. Poppi probiotic drink is a perfect example of the hyper-saturated contrast trend, as are all the products in this CBD beauty brand Happy Dance. 
If you've got plans for any kind of design projects for your business in 2022, why not use these trends as inspiration for a fresh look and feel, using light and airy colors and adventurous pastels, colorful abstracts and jewel tones with neutrals, hyper-saturated color combinations or retro color schemes to bring your brand to life.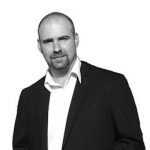 Shayne Tilley is Head of Marketing at 99designs by Vista, the global creative platform that makes it easy for designers and clients to work together to create designs they love. He is a wrangler of collaboration, diversity, and creativity who helps bring more opportunities to people all around the world.