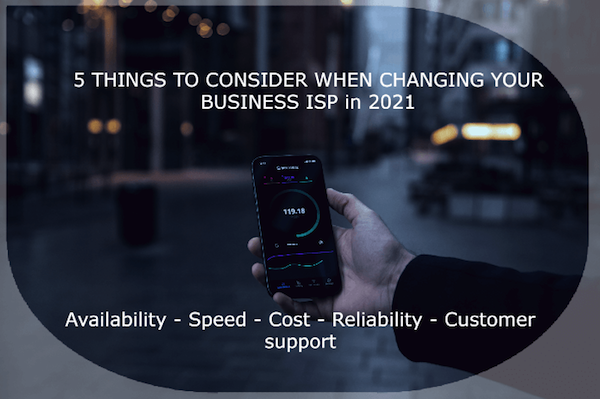 When your everyday business is dependent on the Internet, choosing a business ISP can be important. We've prepared a guide to help you find the right provider for your business needs.
Businesses can use our guide to find the best ISP for their requirements. A good evaluation of your needs starts with understanding the type of service you have.
Types of Internet Connections for Business
Cable Internet:

Cable Internet is a widely available option for businesses as it uses coaxial cable lines – the same type of cable used for Cable TV.

DSL INTERNET

  DSL is another popular type of Internet connection. It delivers broadband access by using standard phone lines.

Fixed Wireless Internet

 Fixed Wireless Internet uses a tower and an antenna to provide broadband access. Modern antennas provide a wireless signal that towers transmit.

Fiber Optic Internet

  Fiber service is a cable connected directly from your ISP to your business.
Depending upon availability and performance, reliability, or cost your Internet options will change. Evaluating these three criteria in combination is critical to finding the best Internet service for business needs. Many businesses these days use a private IP address for internal communications but for certain business needs, they have to rely on an ISP with good customer support.
5 Factors for Choosing Your Next ISP
The internet is vital for day-to-day operations for most businesses and even homes. Most businesses use email, VOIP services, credit card payments on the internet.
With society becoming more and more reliant on the internet, finding a reliable service provider has no longer become just another logistical task. This is due to the growth of video streaming services such as Netflix and Amazon Prime.
The goal of this article is to share some key factors that can help you decide on an internet service provider (ISP) for your corporate business.
1. Availability.
While ISPs have lessened the prices, at this point you should think about your bandwidth requirements." To ensure that you're buying an ISP with the right bandwidth for your company, be sure to evaluate your needs. This will help you find a clearer service provider.
Furthermore, if there appears to be an ISP that is a good match for your needs, make sure you understand whether it offers a dedicated or shared circuit. Broadband providers typically offer different reliability and consistency of speeds,
2. Speed.
As a business, you must account for the increased Internet traffic associated with peak periods. When you're considering a new ISP, consider whether the speed is worth more than other factors to you. For some, the fastest available internet is more important than where it's located. This depends on whether you work for a business or are doing this as a consumer. Quite often, the number you are looking at when comparing plans is called bandwidth.
Bandwidth is the volume of information that can be transmitted over a unit of time. Some residential customers are lucky enough to have access to fiber connections of 1000Mbps, but rural business connections are stuck on 3-6 Megabits per second DSL. When you're searching for a broadband provider, it is worth asking neighboring businesses how they rate their service.
3. Cost.
Finding the right Internet service provider for your company is a careful balance between speed and price. One thing to consider is that if you run a small business out of your home, you probably don't need $1,000 per month for a dedicated fiber internet connection. To some businesses, price isn't as important as speed and reliability.
One thousand dollars a month might not seem like a large amount of money for some people. As with most elements of a business, the type and quality of internet you need is determined by balancing your needs and wants.
4. Reliability.
Understanding the reliability of Internet service providers for business is important, as it will help you choose an ISP that won't be stressful to maintain. When choosing an ISP, it is important to find one that offers a Service Level Agreement (SLA) for service interruption protection. Service Level Agreements (SLA's) are agreements that state the level of service you should be able to expect.
Your level of customer service is crucial to your reliability. Regardless of how good your connection is, something will eventually go wrong. Problems are inevitable, whether it's broken hardware or a damaged line.
Customer support is an estimate of how quickly they easily help fix the problem. Many businesses can't wait days for new hardware to be delivered. They need higher levels of service and a good service provider understands that.
5. Customer support.
There are times when the internet connection gets disconnected due to certain reasons. It could be because of bad weather or system up-gradation but the businesses that totally depend on the Internet can't afford the connection failure at any cost. Here comes the significant role of ISP's customer support service.