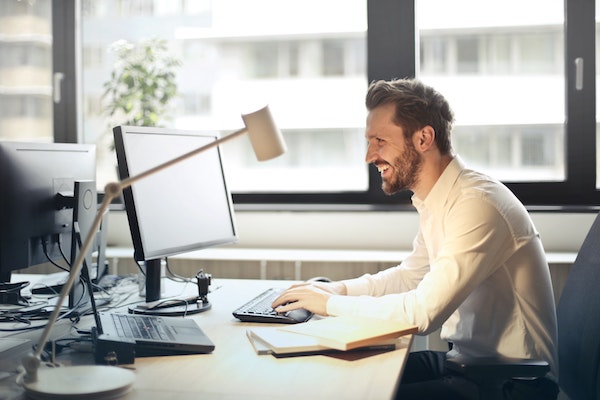 Running a business single-handedly can be challenging. With no one else to rely on for help, you often wear many hats, and with so much to juggle, it can sometimes be difficult to stay organised and in control. Over time, this pressure can become too much for some people, resulting in them second-guessing their motivation to be in business in the first place. 
To stay motivated and on track toward your business goals, you need to stay organised and do everything that you can to keep your company on track. While it can be difficult to maintain your determination all of the time, especially when things are not going right, it's important to have some strategies in place that you can fall back on, to help you push through when the going gets tough. 
Let's take a look at five ways that you can stay motivated and organised as a one-person business. 
1. Read Every Day.
Taking the time to read self-help texts, inspiring biographies of successful entrepreneurs, spiritual books, and other sources of inspiring content is one of the best ways to continue your development as an entrepreneur. What's more, you can learn new tips and strategies to help you stay motivated and organised moving forward. You can even keep books of notes to take stock of what you've learned so that you can remind yourself of important lessons or things that you would eventually like to try and incorporate into your routine.
2. Think Big Picture.
While it is certainly important to focus on what is happening in your business right now, you also need to keep one eye on the bigger picture. When motivation is lacking and you need a little inspiration, remind yourself of your long-term goals and what you are ultimately trying to achieve. Whatever obstacles you are facing at that moment will always seem insignificant in comparison with the big picture goals. 
3. Celebrate Your Achievements.
If you were working as part of a team, you would celebrate your successes, reaching milestones, achieving goals and any other good news that your business receives. When you are working for yourself, it can seem quite anticlimactic when you reach a major goal, as there's nobody there to celebrate it with. To stay motivated, be sure to reward yourself for achieving your targets and give yourself a pat on the back for a job well done when it's deserved. Share the news with friends, treat yourself to a holiday, take the family out for dinner, and celebrate your hard work. 
4. Use Project Management Software.
Handling multiple projects and clients, especially as a one-person business, can be very challenging, and it can be easy for things to slip through the cracks. To stay organised and on track with your projects, try using a cloud-based project management platform to manage your workload. With these systems, you can log in to check on your notes and other project details from any location 24/7. What's more, checking off your virtual to-do list and achieving the project milestones you have set will also help to keep you motivated and on track with your client work. 
5. Get Help When You Need It.
As a one-person business, you might find it difficult to delegate tasks or outsource parts of your processes to third-party providers. However, if you are under pressure or you are unable to take on more clients due to your current workload, it might be time to get some help. Hiring freelancers on an as-needed basis or using various business software solutions to alleviate some of your workloads can help you to free up more time in your day, allowing you time to stay up-to-date with business-critical tasks. Being back in control of your operations will help to motivate you to keep moving your business forward. 
Keep Your One-Person Business On Track To A Successful Future.
Running a one-person business can be challenging, and it can be easy for things to spiral out of control and become less encouraged about your company's future. Following the tips above, you can ensure that you not only stay on track towards your goals but that you stay motivated and excited about the future of your business too.