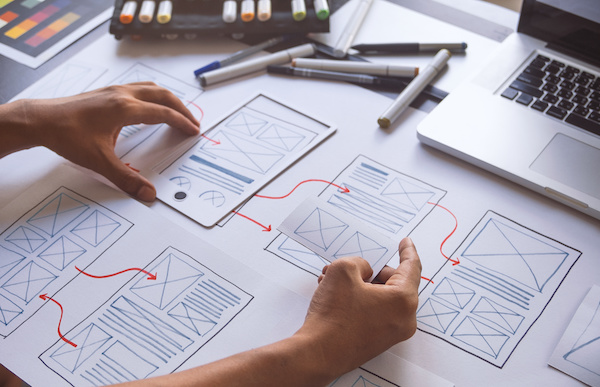 The statistics say that the IT-outsourcing market is expected to grow to approximately 413.7 billion US dollars by 2021. We can see that the popularity of outsourcing is rapidly increasing. No matter what kind of services you need, custom web development or mobile app development – it is not profitable for you to have a team of in-house developers. You only need to find a trusted company to get your order completed. Isn't this amazing?
The thing is that the rapid development of the IT sector has increased competition, the pricing policy and demand. Therefore, if you want to be competitive on the market, reduce costs, and boost your business efficiency, you want to outsource professional services of mobile app development agencies.
In the post below, we'll prove that outsourcing development is an excellent idea for any business.
Why You Should Outsource Software Development
If you need to build a powerful app that can help your business grow, you need to find a trusted outsourcing team that can help bring your idea into life. Here are the main reasons why you should do this:
It's cheaper than hiring in-house experts
If you only need to complete one project, there's no need to spend your precious time hiring developers. When you outsource development, you'll decrease the average cost of your project. There's no need to pay for computers and software; there's no need to hire developers, testers, project managers. Outsourcing is a cost-cutting option; you only need to find experts that are ready to complete your project. An outsourcing company usually has a team of qualified experts and project managers that are ready to submit your project.
You'll be more effective
Professional outsourcing companies usually have a dedicated team of developers, powerful equipment, and experience. Simply put, they have absolutely everything to provide you with exceptional quality work. Some of them also have a team of testers that guarantee the quality control of your app.
When experts are working on delivering your project, you can focus on other tasks that help grow your business.
Incorporation of the most powerful business practices
It goes without saying that the majority of remote development teams are professional and qualified practitioners. They do their best to create products that meet the highest industry standards. The main goal of a development team is to streamline the tasks to complete your product quicker. Professionals are focused on a result. Therefore, they will do their best to incorporate the best business practices in the development cycle.
You'll meet your budget
When outsourcing your application, you understand that your budget is the question of major concern for you. However, there's one significant benefit – your dev team is located far away from you. Therefore, you'll avoid the costs of recruiting, managing, and paying. You only pay for your mobile app. Moreover, there's one thing you need to be aware of – the demographic differences in prices. For example, when hiring coders from the USA, you need to pay $50-$60 per hour, but when you entrust your product to programmers from Eastern Europe, you'll pay $20-$40 per hour. However, this doesn't mean you'll get a worse result; the pricing policy in these countries differs. Remember that the cost-effectiveness aspect is the main driver for many companies.
Less Stress
When you have no idea how to choose developers, what programming languages should be used, how to control your in-house coders, it is really hard to build a robust app. And when you are troubled, you can't achieve good results. When you hire a remote team, sign a contract with them, and determine the deadline, you'll be far away from the stressful dynamics of project management.
If necessary, you can ask a development team to make the whole process more transparent, and a project manager will notify you about daily or weekly results. You can also create an online dashboard with specific milestones that need to be completed within a definite period of time. Overall, you'll be away from stress and other worries about the project.
Business analytics
When choosing seasoned programmers, you'll also get some tools for analyzing customer data. All this can help you be more effective and get a robust system for capturing data. Moreover, even if you face some difficulties, you may ask a remote dev team to help you with employing analytics and gathering customer feedback faster. This information can also help you build a more successful marketing strategy.
All in all, you can see that if you want to build your own brand and keep up with modern trends, you need to build a mobile app. But the idea of hiring a remote team allows you to benefit in many ways. You'll save costs and focus on other aspects of running your business. An outsourcing team will take the hassle of driving your project development, and you'll get your software product on time!