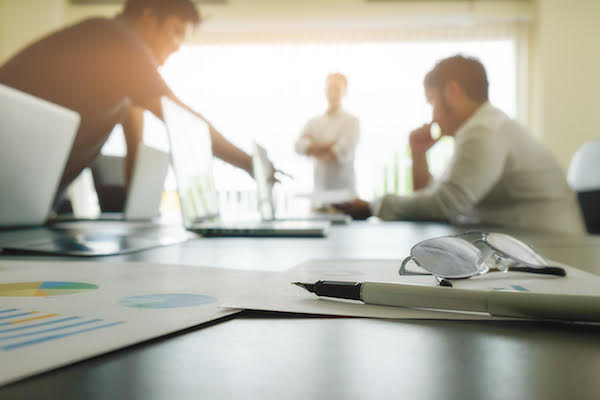 by Erin Yurday, CEO, Co-founder and Editor of NimbleFins
Risk management is a vital component for any successful small business. When you have limited resources, you need to be able to mitigate catastrophic errors properly. This means that you need risk management policies and plans in place to thrive.
There are a handful of things that you can do to make sure that you are prepared for risks. Generally speaking, risk management involves identifying the common areas where a problem could develop. Here are seven to prepare you for significant risks.
1. Should You Buy Business Insurance? 
Every business should buy business insurance as a way to mitigate risks. Building a business can be a dangerous venture financially. You will put significant amounts of resources and money into creating your company. If something goes wrong, the financial damage can be severe.
Business insurance will protect you from harm. For example, having business contents insurance means that if a piece of technology is damaged, it can be replaced. Business public liability insurance means that you are protected if you are sued for damages by a third party that blames you for an injury or property damage. Professional indemnity insurance covers claims by customers or clients that they've lost money as a result of a professional mistake or negligence. There are many types of cover, and securing the right business insurance is a vital tool for any organization that wishes to avoid severe financial damage.
2. Should You Do Market Research?
Market research is a practical way to gauge your industry's performance or prepare for a new venture. If you are going to launch a new product, you need to understand what the market is. This means that you will need to do thorough research to generate the optimum results. Market research can be a valuable tool for any company that wants to identify the venture success rate ahead of time.
It is essential to study the success rate of a potential venture before you invest resources. In addition, market research allows you to identify what the demand for your particular idea would be.
3. Should You Monitor Competitors?
Monitoring the competition will help you to maintain your target audience's interest and make sure you stay relevant. It is not exactly a secret that you will be competing with other small businesses for success and clients. However, to stay ahead of the competition, you have to know what your competition is doing. That's why keeping an eye on business rivals, and other companies will allow you to tweak your business model on the go.
4. Should You Track Employee Morale?
Employee morale can be one of the most significant risks to a small business, threatening to cause chaos if not addressed. As a small company, your staff will be your lifeblood. They will be the way that you continue to provide services and compete with rivals. However, setbacks and challenges can be damaging to employee morale, which affects your business.
Make sure that you take the time to address any problems involving morale. Your staff needs to know that you appreciate and respect them. An excellent way to facilitate this can be to provide training and advancement opportunities.
5. Should You Track Data?
A small business that does not pay attention to data and analytics is a small business in trouble. These statistics form the backbone of successful business manoeuvres. Even the big companies use data as a framework to make crucial decisions, so you need to do so.
Take the time to study analytics because they provide valuable insights. You will want to know if your business is not doing well because this could be a warning sign of future hardship.
6. Should You Get a Credit Line?
A credit line can provide vital financial aid and a safety net during difficult times. You cannot predict what will happen to your business during the year. It may be the case that you suffer an unexpected financial setback. Your client base may drop off, or you fail to find new customers.
If these things happen, you might struggle to pay your workers' wages, utility costs, and business expenses. A credit line will help prevent this by giving you access to a cash flow you can draw from whenever you need to.
7. Should You Update Technology?
It is vital to update your technology regularly to stay connected and provide good services. The world of business is becoming increasingly digital. More people are looking online for services, and cloud-based computer systems and resources are becoming common. This means that you have to stay afloat in a technologically advanced world.
This is not going to be possible with old technology. Computer systems, software, and mobile devices all need to be regularly updated. You cannot keep up with the demands of your industry if you do not have the correct tools to do so.
Mitigating business risks is a vital part of being a successful enterprise. You need to be aware of what common business risks are to plan for them effectively.
Research sources:
Erin Yurday is the CEO, Co-founder and Editor of NimbleFins, a market research company specialised in aiding businesses and professionals in their decision-making. Prior to NimbleFins, she worked as an investment professional and as the finance expert in Stanford University's Graduate School of Business case writing team. Read more on LinkedIn.