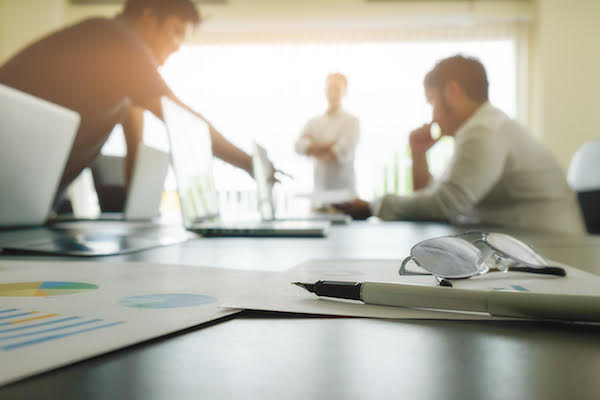 by Mark Goulston, MD, and Diana Hendel, PharmD, of "Trauma to Triumph: A Roadmap for Leading Through Disruption and Thriving on the Other Side"
If someone asked, "What's your company's emergency plan?" what would you say? If your response is "I guess we'd call 911" or "I don't know…pull the fire alarm and evacuate the building?" you're not alone. Most companies simply aren't really prepared for a significant disruption. We want to change that.
In a world where everything is in flux — from changing customer expectations to shifting employee values to political and cultural  instability to climate change — a disruptive event will, eventually, hit your workplace.
When it does, you're going to feel it. COVID showed us that. And as many companies discovered, being unprepared can have long term negative implications. But when you have a strong system in place for handling disruption, you can navigate future trauma with far more ease than you would have otherwise.
This system is called a Rapid Response Process (RRP). It is a standardized, pre-planned approach that businesses can create before a crisis occurs.
A Rapid Response Process makes a huge difference in how your company experiences trauma. Once it happens, emotions will run rampant, and the more uncertainty there is, the more emotional things will get. A good RPP allows you to respond rather than react.
Here are some of the reasons why a Rapid Response Process is so beneficial:
It allows people to move into position quickly so they can spring into action. Delays can be costly.
It conveys more confidence that the response to a crisis or trauma is organized and not haphazard.
It allows organizations to control the controllables. Plus, the increase in employee and leader skills and confidence in dealing with crisis or disruptive change, very likely will decrease the number of things that were previously considered uncontrollable.
It reduces chaos. By imposing some structure, you allow for maximum collaboration and coordination while ensuring that people stay in their lanes. It's clear who the point person is. Much like how a beehive operates, everyone knows their job and performs it.
It supports better decision-making and communication.
It helps to steady emotions and decrease stress for individual leaders and their teams.
It helps leaders get info at a time when paralyzing fear stifles information flow.
It gives leaders the ability to filter out unnecessary or unhelpful information (while retaining accuracy of course), and react in a thoughtful, reasoned way when it's most difficult to do so.
Here's a quick overview of how to put an RRP in place:
Gather your rapid response team.
Appoint people to this team before a crisis happens and make sure they know their respective roles. It should include all senior leaders and leaders of key functions such as operations/logistics, security, finance, HR, communications/PR, facilities, etc.
Allow the leader in charge to delegate.
You need a central commander to manage response activities such as assigning personnel, deploying equipment, obtaining additional resources, etc. This leader must be fully present, visible, and available in the heat of crisis.
Have the team report to the command center.
This is a pre-determined location (physical and/or virtual) for monitoring and reacting to events. You should also select a code word that puts the Rapid Response Process into action. Some organizations use "Code Rapid Response" or "Code Blue" as theirs.
Gather relevant information.
In a crisis, it's critical to centralize information, facts, and data. What's known? What isn't known? The goal is to organize and coordinate response activities, ensuring that the most pressing needs are met and that resources are properly allocated.
Promote a unifying message.
It is vital to deliberately shape and disseminate a message of unity. Make sure your message is one of "we are all in it together." This helps people transcend the impulse to split into factions and polarize your organization.
Once a plan is in place, you'll find it's adaptable and scalable. It can be customized for crises and change events of various intensities. You can train people in it and practice it by "pulling the cord" from time to time so everyone can get familiar with how it works.
When a disruptive event occurs — and it is truly a matter of when, not if — you will be ready to take decisive action that minimizes the fallout. This enables you to quickly stabilize your organization, integrate the crisis in a meaningful way, learn from any mistakes, and get back to work.
As the CEO of Long Beach Memorial Medical Center and Miller Children's and Women's Hospital, Dr. Diana Hendel led one of the largest acute care, trauma, and teaching hospital complexes on the West Coast.
Dr. Mark Goulston is a board-certified psychiatrist, fellow of the American Psychiatric Association, former assistant clinical professor of psychiatry at UCLA-NPI, and a former FBI and police hostage negotiation trainer. He is the creator of Theory Y Executive Coaching that he provides to CEOs, presidents, founders, and entrepreneurs, and is a TEDx and international keynote speaker.
They are co-authors of "Trauma to Triumph: A Roadmap for Leading Through Disruption (and Thriving on the Other Side)", which is available from major online booksellers.