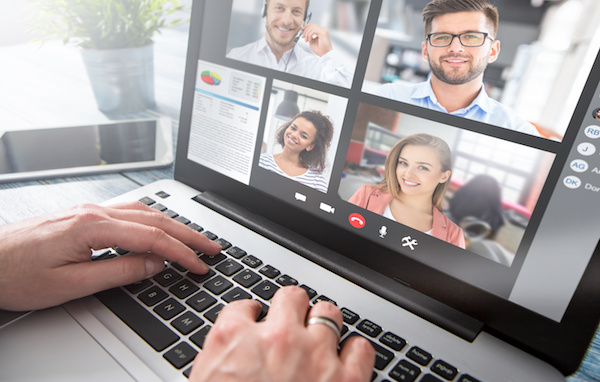 It's that time of the year again, a colleague's birthday! Unfortunately, you're not able to go to meet up at the office due to the pandemic that is going on all over the world. So, how are you going to celebrate? Well, celebrating virtually can be a great alternative. It only requires some planning and organisation skills to pull it off.
That's why we have listed 6 steps to throw a virtual birthday party successfully. You can thank us after. 
1. Which platform are you going to use?
Sure you can use the usual remote work platform you normally use for team meetings like Teams, but that may not be too appropriate considering office protocols.
So which alternative remote platform can be best used for your surprise party idea? Each platform has their pros and cons. You can choose between multiple platforms like Google Hangout, Zoom or Skype.
2. Invite your (other) colleagues.
Your birthday colleague is likely to work with different people in the organisation. It may not just be their teammates in their department; certain functions work across various teams, and even with similar roles in the organisation but based across the world.
Find out who they work regularly with and invite those colleagues round the world as well! Just be mindful of the time differences and plan accordingly.
3. Pick a theme that suits your colleague (and is appropriate for an office setting).
Pick a theme that you know the birthday girl/boy will enjoy, after all it's their party. Has he/she for instance been binge watching Grey's Anatomy lately? Then you can make everyone dress up as a doctor or nurse. This is of course if every attendee has an outfit like that already or has the means to get one. If not, you can choose a colour scheme or something else! Is your friend's birthday party close to a national holiday? Pick a theme that's close to that celebration. Take for example Christmas and all wear a Christmas dress (Dutch: kerstjurk) or suit. Are you Dutch and you're from Brabant? Then you might want to think about celebrating Carnival. Get yourself Carnival clothes (Dutch: carnavalskleding) and get ready to party!
4. Put together a party package.
Send everyone who'll be attending the party an invitation by sending a party box. What you put in this party box is entirely up to you. Think about candy, confetti, balloons or other party decorations, which they can use as background decorations during the virtual party. Create a personal party box to be delivered to the birthday girl/boy, with special cards from everyone and maybe even a cake. Does one of your other colleagues live close to them? Let them deliver the box to their doorstep and record their reaction. 
5. Photo slides.
Ask all the attendees if they can send pictures of the birthday boy/girl and make a powerpoint presentation/ slide show. Show the slide show during the whole virtual party. These can vary between childhood pictures to embarrassing drunk at office party pictures. 
6. Pub quiz as activity.
When it's someone's birthday, they're the man/woman of the hour. Everything is about them. Seeing all the people in the Zoom or Skype meeting would probably be a surprise of itself.
To surprise the birthday boy or girl even more, create a pub quiz purely about them. Ask everyone to send in questions regarding the birthday girl/boy. These questions can be related to anything, but work-related ones can actually help to bond the team as well.
With these tips, your colleague will have the best virtual birthday party they could ever wish for.