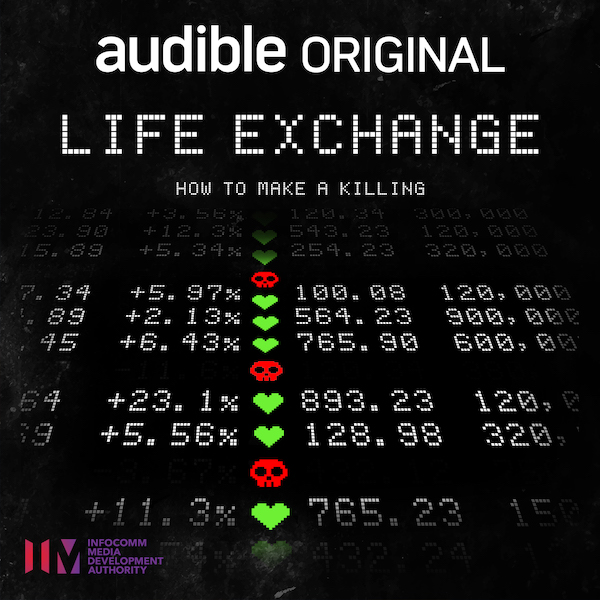 The Audible Accelerator Singapore programme identified and worked with 10 SMEs to produce original made-with-Singapore audio stories for the Audible platform.
Due to the COVID-19 pandemic, and safe distancing measures, more and more people are stuck in their homes. However, their media and streaming consumptions have surged. A survey by Media Partners Asia reported an increase in 60% of mobile streaming from the start of the pandemic in January of 2020 while Nielsen's survey reported that 35% of people listened to a streaming service at least once a week.
While this has led to an increase in usage of internet and streaming services, SMEs and talents who carry the production of these performances remain impacted and voiceless.
Through the inaugural Audible Accelerator programme, conducted in October of 2020), in partnership with Singapore's Infocomm Media and Development Authority (IMDA), the programme looked to support and develop original audio content in Singapore.
65 participants received training and audio development and production through virtual coaching and workshops with notable content creators, some of whom have won awards for their productions. A final 10 participants were selected to create up to 30-minute original audio productions with the possibility of development into full series. These 10 pilots have since made their debut on Audible.
"The Singapore Accelerator was designed to tap into Singapore's unique homegrown storytelling talent and nurture Singapore's budding audio-storytelling community," said Karen Appathurai Wiggins, Audible Vice President Content, APAC.
Projects include fictional series, such as Barefoot In Bengal by Warrior9 VR, a story set in 1901 British India, about a ragtag team of Indian football players who take on the British at their own game; Life Exchange by Luff Media, about a desperate ex-con who sells shares of himself on a 'human stock exchange' and uncovers a sinister plan to drive his price down. Others like  The Golden Knot from Fifty Fifty Productions, about a renowned seamstress, who is forced to become an unwilling sleuth when her niece is viciously murdered; and Therapy Z by Great Kings Entertainment, a part-therapy, part-horror drama which is set smack-bang in the middle of a zombie apocalypse.
Talents that have contributed to the productions include theatre veterans and performers such as Lim Yu-Beng, Gerald Chew and Neo Swee Lin, Adrian Pang, Oon Shu An, and Nathan Hartono. Others include Tay Kewei, Divian Nair and Paul Foster.
"This initiative with Audible aims to identify local storytelling talent and offer an invaluable opportunity to tell original Made-with-Singapore stories for premium audio content," said Mr. Howie Lau, Assistant Chief Executive, Media and Innovation, IMDA.