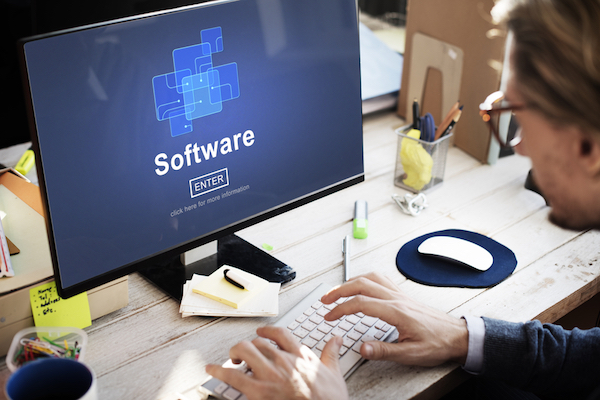 by Chelsea Trout, SVP, Merchant Sales, Clearent
As an entrepreneur, you have likely learned first-hand that building, running and growing a business is not easy, especially in the face of a global pandemic. Seemingly endless, time-consuming tasks compete for your attention every day, leading you to believe that there has to be a better way. This frustration has led many business owners to research business management software solutions.
If you're not familiar with the term SaaS, it means "software as a service" and refers to cloud-based  software applications that were created to solve the pain points faced by businesses in a particular industry. For a monthly subscription fee, these platforms help business owners save time, lower costs, and keep a close eye on critical areas of their business, such as their finances and inventory, with just the click of a button.
Over the past few years, vertical-specific software solutions have exploded, and this rapid growth continues as business owners look for ways to use plug-and-play technology to thrive in the new normal. Regardless of what type of business you run, chances are there are probably several software solutions that can help streamline your company's operations while helping you grow revenue and improve your focus on providing a great customer experience.
Options are great, but it can make picking the best software solution for your business a little overwhelming. That's why it's important that before choosing a solution, you need to make sure the software platform aligns with your goals, can help you overcome obstacles and has the features you need now, as well as those you will likely need in the future as you grow and scale.
While the pain points you are looking to solve may vary from one business owner to the next, and from industry to industry, I've found that it's helpful to have a general understanding of common features as you begin your search for a vertical-specific, end-to-end software solution. This will help focus your research and lead you to the ideal solution faster.
Point-of-Sale with Inventory Management
Many SaaS platforms double as point-of-sale (POS) solutions and handle everything from inventory management to checkout and payment. Most retail systems also include e-Commerce integrations so you can easily sell online and open your business to even more customers. Since these systems are cloud-based there's no need for the over-sized terminals you often see on the counter at a restaurant, bar or retail store. They're also less expensive,  easier to use and more flexible than their larger traditional counterparts. Many systems also include some degree of inventory management, which takes the pain out of monitoring stock levels.
Business Analytics
The right software platform will make it simple to see how your business is performing, ideally through an easy-to-read dashboard. And since SaaS solutions can be accessed from any device, you'll always have important information right at your fingertips in real time, even on the go, so you can make smarter business decisions. From restaurants and retail shops to home service providers and fitness studios, success depends on being able to dig into key performance metrics so you can keep track of your money, identify trends and put your business on the path to long-term success.
Scheduling & Dispatching
Whether you're scheduling employees, routing jobs for your team or need a way for customers to sign up for a service or class, scheduling and providing a window to real-time availability is an important component for many software platforms. Appointment scheduling saves time and money and eliminates the need to keep a paper calendar and manually schedule appointments. Dispatching is equally important for field service providers who need to intelligently route techs, get instant updates on their location and decrease overall "windshield time."
Accounting & Payments Integrations
The last thing you need as a business owner is more paperwork. That's why it's important that your preferred software solution has both an accounting integration and the ability to seamlessly and securely accept payments directly within the software. These powerful integrations amplify the base software solution and effortlessly connect all of your data. Every transaction flows smoothly into your accounting software, eliminating the need to manually enter transactions and payments in multiple systems. This is a game changer and estimates have shown that this functionality can save businesses 20 hours a week or more on data entry alone. Most software applications also use advanced security technologies which keep your customers' data safe and secure so you can rest easy when processing one-time and recurring payments.
CRM
Another benefit of many business management software platforms is Customer Relationship Management (CRM). These systems bring all data about customers and prospects into one system, keeping it organized and providing visibility into customer interactions. This is the first step to building meaningful lasting relationships with your customers. CRM functionality helps you truly understand your customers so you can reach out to them at the right time, with the right message and a relevant offer through their preferred channel. Having this capability goes a long way toward helping you distinguish your business from competitors.
Marketing Automation
Many solutions offer features that make it fast and easy to communicate with your customers via email and text. For example, you can create and schedule automated marketing communications to targeted customer segments. From purchase follow-ups and upsell campaigns to "we miss you" messages, automated marketing can help you engage new customers and earn back lost revenue.
Finally, there are a few last tips that I would like to share before we close. By opting for a vertical-specific application, instead of one that tries to be all things to all people, you can be confident you're using a platform that was designed to solve a very specific set of challenges which you likely face in your own business. Then once you've narrowed your list of possible solutions, don't forget to read online reviews. This is a great way to find out what your peers think about a particular software solution. Scheduling a live demo or watching one online also helps you see first-hand how your preferred solution can help you drive efficiency and revenue.
If you need additional help, don't hesitate to reach out to your payment processor or a member of our team. We would be more than happy to chat about your business and see if there is a way we can help.
Chelsea Trout is Senior Vice President of Merchant Sales at Clearent, and the head of its Direct Sales team which ensures small business owners across the nation have the payment options they need to grow their business.