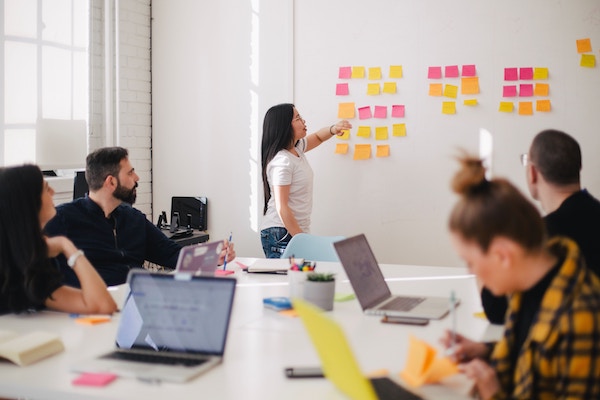 Work meetings are, in theory, efficient gatherings to discuss workplace goals, issues, topics and more. Nonetheless, work meetings can easily become synonymous with time wasted, long discussions without precisely getting to the point, or perhaps even distracted team members who are not fully focused on the topic at hand.
That is why it is always worth looking into methods which will enable work meetings to be more productive.
Here are 6 tips for making that happen.
1. Plan Ahead of Time.
Trying to wing it when it comes to productive meetings can easily steer everything off course. While improvising and brainstorming ideas within meetings is not necessarily a bad thing, it is a good idea to have even a vague plan of action with bullet points ahead of time. This means you have a list to work from and can help you to keep on track with items which need to be discussed, to avoid any time wasting.
2. Make it a Conversation.
Work meetings do not have to be long and drawn-out speeches with complete silence from everyone else. To keep everyone involved and engaged, make it a casual and informal discussion to entice more input from others in the room and get ideas more comfortably flowing.
3. Ask Ahead of Time if There Are Any Points Others Would Like to Bring Up.
Team meetings are good opportunities for other people to raise any issues they might have. If you leave it until the actual meeting in the moment to ask everyone what points they would like to raise, you may receive more feedback than you had expected.
This can risk running out of time, not being able to provide an adequate discussion, or not being prepared to answer any issues or queries which have been raised.
Speaking to team members ahead of time to ask if there are any key points is a great idea. Not only does this enable your team to feel more heard, but it can also best help you to plan out the timeline of the meeting.
If there are any issues which cannot be comfortably discussed in the time you have, knowing this ahead of time will enable you to speak to team members and explain that they might need to be addressed outside of the meeting, or during another meeting.
4. Use Team Meeting Software.
Not all team meetings may be in one room in a traditional fashion. Team meetings may require remote workers to connect through technology, or maybe have a room full of people needing to link up with those working on the road.
Consulting software, like that from ovatiotech.com, can help to make team meetings more successful, connect employees with the right information, and help team members to collaborate, even if they are working from different locations.
5. Choose the Right Time of Day.
There is no doubt that productivity levels can shift throughout the day. This means if you are looking for the most productive meeting, leaving it until the last item of the day may not be advisable if everyone is waiting to go home.
Find the peak productivity time for your team, such as late morning or early afternoon rather than end of day.
6. Use Visuals.
As a final tip: always use visuals! To make things a little more interesting, make sure to have some variety with how information is presented. Instead of simply speaking at your team, or providing them with block text on paper, consider using visual presentations, videos and images, too.