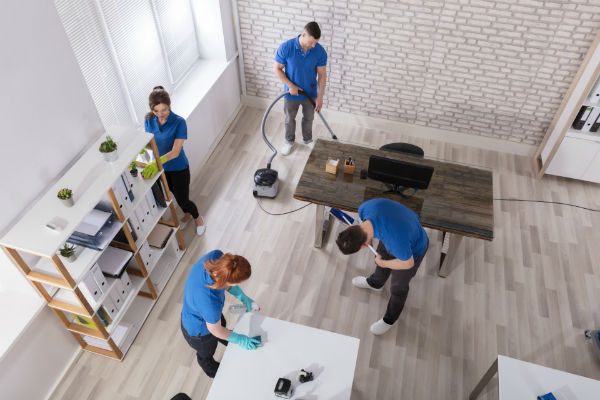 Keeping a space, any space, clean is more important than ever. The pandemic has made us rethink our personal and professional hygiene. At work, the best way to address hygiene concerns is with the use of contract cleaning. After all, they are the experts in all things clean.
What Are Contract Cleaning Services?
Services for contract cleaning are professionals you can hire to clean our office or commercial property. The best providers will never make you pay for something you don't need and will tailor your contract to your needs. This means that every service is specific to your building and cleaning staff will cause as little inconvenience and disruption, if any, by working their hours around staff and visitors.
Why Professional Contract Cleaning Is Important.
COVID-19 Prevention.
We all know how important it is to stop the spread of COVID-19 and in our own homes, we are all now the master of disinfecting and sterilising. However, a working premise is different and requires professionals to stop the spread in the most efficient way possible.
Regular contract cleaning is now focussed on just keeping the office looking clean and tidy, but focussing daily on those regularly touched surfaces, such as light switches, door handles and elevator buttons.
These professionals also know the best products to use to kill the virus, as not everything on the market is able to, they can use these properly and without causing damage to surfaces.
Carpet Cleaning.
Carpets are notoriously tricky to keep clean and if your building has numerous visitors and staff members walking in and out all day, in every weather, carpets can quickly deteriorate and provide the wrong impression of the business.
By using a regular contract cleaner, not only will they take care of daily maintenance, such as vacuuming, but they can also use their expertise to address stains and spills from the busy working day. With the use of their professional equipment, you can even request ad-hoc deep cleans, keep those carpets fresh, smelling good and most importantly, providing the right impression for the organisation.
Window Cleaning.
Dirty windows look unsightly, unprofessional and can block natural light getting into a room. This looks awful and can even contribute to a lack of vitamin d in staff, which can interfere with their productivity levels.
If your office building is on the ground floor then you may be able to address this yourself, but anything higher could lead to expensive hiring of equipment and a lost work time to complete this task.
Contract cleaning isn't just for the inside of the building, but the outside as well, you can request these services as a regular cleaning service or ad-hoc. Leaving everything shining as it should be and allowing staff to focus on the really important tasks.
Washrooms.
No matter how hard you may try, shared office washrooms can become a nightmare if not properly addressed. Not only is this a health hazard but it can be incredibly detrimental to the mental health of your staff. Nobody wants to go to work and fear using the toilet!
Any visitors will also be given a poor impression of your business if washroom facilities are unkept or reusable goods such as toilet paper or soap not adequately stocked. Not only can professional contract cleaners keep these areas spotless, but they will also regularly check these items and restock when needed.
Outside and Signage.
Visitors using your car park will see this as their first impression of your business if it is filled with litter, leaves and other debris, it can be a negative one.
If the business has signage, whether this is simply to show the name of the business or perhaps further details of your services to attract more customers, a filthy sign will swiftly put people off.
Contract cleaners can attend to the outside of the building and make sure everything is at the standard you want it to be, this includes your gutters. They are the silent culprit that can damage your property. If drainage is not adequate, there could be consequences in the future.
But, let's be honest, no hard-working member of staff wants to get up on a ladder and clear out the gutters when they are working, so let someone else do it for you.
Overall, the main takeaway from learning about contract cleaning is that these professionals don't just keep a building clean. They help to improve productivity within teams and boost staff morale while maintaining a positive impression of the business for visitors and clients. Over time, they can even save you money, as they come fully equipped with the best tools and methods, meaning your surfaces and soft furnishings will be properly maintained and last longer, meaning refurbishment is needed less often.