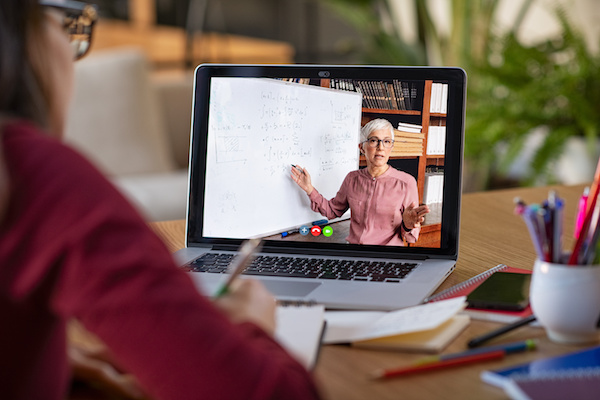 The COVID-19 outbreak has disrupted all sectors of the global economy in a way no one could have predicted. Education, for instance, is on the cusp of a seminal shift. The strict lockdown and social distancing measures have affected as many as 1 billion students across the globe; that's a disruption unparalleled in human history.
Yet, this is where technology, whose application has until now remained, at best, marginal, is offering a glimmer of hope; that education may well continue despite all the challenges around. The caveat is that it could look quite different from what we're presently used to.
eLearning in The Pre-COVID Era.
The technology in question is eLearning. It's not unheard of or an avant-garde technology. The term was first used in 1999 at a Cognitive Behavioral Therapy(CBT) seminar. In the pre-COVID-19 era, there was a general feeling that the old methods of teaching and learning were becoming increasingly obsolete and this was contributing to the steady adoption of eLearning solutions. The global edtech investments had reached US $18.66 billion in 2019, with the forecast for online education estimated to reach $350 billion by 2025. These are not small numbers but when compared to the overall market size, they can look like a drop in the bucket.
Suggested Read :- How E-learning Platforms Are Gaining Popularity In The E-commerce Industry?
Trends In the Wake of the Pandemic .
The pandemic has acted as a catapult in accelerating both the adoption rate and growth of eLearning solutions. Following are some of the recent trends in the eLearning sector:
Preply, a tutoring marketplace founded in 2013 announced a $10 million series A funding in late March. The company said it will look to scale its operations and increase focus on the US market, where it has plans to open an office by the end of 2020.
In what's described as the largest online movement in the history of education, roughly 730,000 or 81% of K-12 students in Wuhan started taking classes via the Tencent classroom in Mid-February after the Chinese Government directed students to continue their studies through online platforms.
Lark, a Singapore-based collaboration suite jumped on the eLearning bandwagon by offering teachers and students such advanced features as unlimited video-conferencing, auto-translation, real-time project co-editing, and smart calendar scheduling. The company significantly ramped up its global server infrastructure and engineering capabilities to meet the growing demand.
BBC also looked to play its part in powering virtual learning; its Bitesize Daily service, initially launched on 20th April 2020, provides hundreds of lessons over 14 weeks to the kids across the UK. The service features over 200 talented teachers, along with football stars, celebrities, and award-winning music personalities delivering some of the lessons.
eLearning Trumps Traditional Classroom Learning.
As the eLearning juggernaut continues to accelerate, critical inquiry into its effectiveness and reliance is bound to follow. However, research on this score is again overwhelmingly in eLearning's favour. Studies suggest that students retain 25-60% more material when learning online as compared to 8-10% when learning in a classroom. Moreover, eLearning is a faster means of learning, taking 40-60% less time compared to traditional classroom settings; this is because students are able to learn at their own pace.
Types of eLearning.
eLearning is often categorized based on the type of tools, content, and the absence/presence of synchronicity. Broadly, all forms of eLearning can be explained under the following 4 categories.
Synchronous eLearning – Real-Time Learner-Instructor Interaction
Synchronous eLearning happens in real-time, with the exchange of ideas and information with one or more participants taking place at the same time. Typical examples include live student-teacher instructions/feedback sessions, Skype conversations, virtual classrooms, or chat rooms, where all participants work collaboratively at the same time. Synchronous learning fosters learner's online awareness and makes them more open-minded as they have to actively listen to their instructors/peers.
Asynchronous eLearning – Self-Paced Learning 
Asynchronous eLearning differs from synchronous in that it's self-paced and doesn't require other participants to be involved at the same time. It's quite beneficial for learners with chronic health problems or child-care responsibilities. Asynchronous learning offers a stress-free environment and a flexible time frame for learners to complete their work. They can reach out to experts for the necessary guidance needed in a given assignment. Asynchronous learning allows learners to earn diplomas faster and even repeat failed exams without sitting in a class full of younger students. Common tools and technologies used in asynchronous learning include videos, podcasts, eBooks, discussion forums, and blogs.
Linear Learning – Instructor Is The Principal Source of Information
Computer-based training (CBT) learning includes a range of learning activities delivered through a computer or handheld devices like smartphones or tablets. In the early days, CBT delivered content usually via CD-ROM, and in a linear fashion, comparable to reading an online book or manual. For this reason, CBT is preferred for teaching static processes like learning to use software or completing mathematical equations.
Multiple choice questions, radio buttons, drag, and drop or other interactive means that can be scored and recorded by a computer form the basis of assessing the performance. With the possibility to embed rich media, such as videos, animation, to enhance the overall learning experience, CBTs are fast becoming the alternative to printed learning.
Collaborative Learning – Everyone is a Learner 
Computer-supported collaborative learning employs a set of instruction methods to encourage learners to work in a group to complete various types of learning tasks. Also, referred to as social learning, it's gained prominence because it offers a perfect environment for creative and engaging educational endeavours. Learners actively converse about the content and have grounded interaction about possible problems and actions.
Collaborative learning is quite different from instruction-based learning, in which the instructor is regarded as the primary source of information/knowledge. Instead, collaborative learning makes use of social software, wikis, podcasts, blogs, and discussion groups to enhance learning. Proponents of this type of learning often claim that the "best form of learning something is to teach it to others."
Different Types of eLearning Platforms.
As discussed earlier, COVID-19 has given eLearning a strong push and we're seeing an exponential increase in the number of people taking interest in online learning – either to learn a new subject/skill or teach online. There are scores of online learning platforms that allow people to learn, create, or sell courses online. But before we proceed further to analyze these platforms, a distinction must be made among online tutoring marketplaces, eLearning platforms, online course creation platforms.
Real-Time Online Tutoring Platforms
Launching an online tutoring platform concept has gained huge popularity in the eLearning space recently. It basically connects people who need expert support and guidance in their choice of subject with those who are able to provide it.
While some marketplaces match learners with tutors based on their specific needs, others allow learners to browse tutors' profiles and select the tutor they feel best meets their needs. In both scenarios, learners get to schedule trial lessons to determine the right coach for them.
The form of learning is quite interactive and the tutors can customize the lessons based on learners' individual requirements. Communication takes place through a combination of mediums Video/audio chat supporting features such as digital whiteboard, Textpad, screen sharing and much more.  Preply, Cambly and Chegg Tutors are the best examples of online tutoring platforms.
Online Course Platforms
Simply put, an online learning platform is an information system where learners can take online courses to gain or improve their understanding of a given subject. These are often referred to as online course marketplaces since they allow learners to search and then pay for their favourite online courses directly. Most of the content is educational-based and dedicated to meet university-level education needs. Udemy and Coursera are the best examples of online course platforms.
Solutions To Launch eLearning Marketplace.
Gone are those days when you needed to spend millions of dollars to build an eLearning marketplace from scratch. There are numerous turnkey solutions available in the market which allows you to launch your eLearning marketplace in quick time. Solutions are upgraded in regular intervals due to feedback received from businesses using the solution, which makes them more user-friendly in comparison to custom development where some issues can be experienced for the first time.
A white-label and fully customizable solution like Yo!Coach can be an ideal choice. It enables business owners to launch future-proof online tutoring and consultation platform. The solution is pre-integrated with video conferencing APIs like (Cometchat, Zoom and LessonSpace) which allows building a collaborative online learning environment with features like Whiteboard, Textpad, Video/text chat, Screen Sharing, Code editor and much more.
Final Thoughts.
The COVID-19 outbreak has come about as a stark reminder of our need to adapt. Often segments of the economy that are resistant to change are worse hit in such situations. Classroom learning has been the modus operandi in education for a very long time. But national lockdowns and social distancing laws have made us rethink our approach to education.
This is one of the key reasons for the popularity of online learning platforms recently. As people switch more to the online realm for education and knowledge, the scope and application of these solutions will only get bigger. Even the critics of online learning are moderating their stance, and it's fair to say that there's never been a better time for Edupreneurs or Solopreneurs to build their online learning platform.