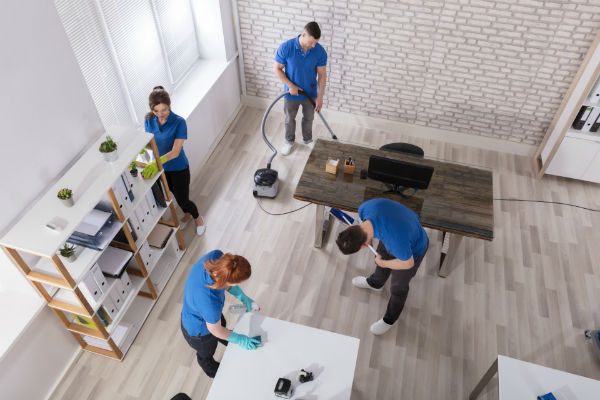 Most of us lead busy lives and can, from time to time, find it hard to juggle the needs of day-to-day life, which is partly why more people than ever are hiring cleaners. Having someone come to clean your home a couple of times a week can relieve a lot of stress and let you focus on other things.
If you are thinking of setting up a residential cleaning business, it could be a bit of a daunting prospect. However, with lots of hard work and careful planning, there is no reason it can't become a viable and financially fruitful career.
Here are 4 things that could help make your cleaning business a success.
1. Build a brand identity.
One of the first things you should do is think of a company name and have a logo designed. It will help create the image of a professional and trustworthy business that can be relied on. Have your logo applied to any uniforms that you wear when cleaning, and have business cards produced to give to each of your clients.
Many businesses have banners produced to apply to their vehicle's rear windscreen with their logo, company name, and phone number. It's free advertising and could lead to new customers.
2. Stay safe.
One of the most important things with any successful business is to ensure that you, your customers, and your staff remain safe at all times. If your employees are using an array of products, they must be made aware of the dangers of mixing chemicals. The results can be fatal, so you should explain the risks and the importance of adequate room ventilation.
If you are undertaking tasks such as heavy-duty oven cleaning and are using products such as caustic soda, additional safety measures need to be taken. You can read more about this online if you are at all unsure what is required. One health and safety incident could cost you your whole business, so don't cut corners and don't take unnecessary risks.
3. Be thorough.
If you do an impeccable job and your cleaning routine is extremely thorough, you are not only more likely to keep the clients you have but far more likely to be recommended by existing customers. Go that extra mile and make sure that the cleaning you carry out is a cut above the rest.
If you employ staff, have a cleaning checklist produced for each client outlining what is to be done and what standards need to be met. This will ensure that your services are streamlined and meet your criteria regardless of who is doing the cleaning.
4. Reliable and dependable.
One of the things you have to appreciate when cleaning for other people is that their schedule is more important than yours. If, for example, they have you booked in twice a week at certain times, make sure that it's doable before committing to it.
If you are regularly late or don't turn up, customers will employ someone else instead. Be reliable and make sure customers know that your brand is one they can trust.