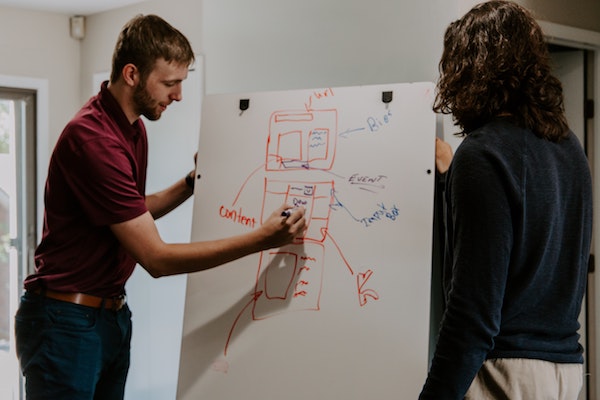 Be it a marketing agency or an architectural firm, employee training should be an integral part of the company culture. 
When your employees comprehend that your organization keeps their growth as a priority, the chances of them performing better increase. The better the performance, the more is the success of the organization. 
However, one of the major concerns that every marketer has is not the ineffectiveness of training deployed to his creative team. 
When their training is not beneficial, it'll be a challenge to make them attend and stay engaged with the sessions. Thus, as marketers, it is important that you create and offer a training program that is relevant and interesting for your members in the creative and sales team, respectively. After all, you wouldn't want to train your sales team in UX/UI Design!
One of the most popular steps to make employee training effective is by adopting a cloud-based learning platform aka an LMS. You can get in touch with a learning management consultant to get a solution after a thorough evaluation of your needs and LMS's features. 
This way, you'll not only bag software that fits well with your organization but also ensures the effectiveness of your training. Other ways to execute engaging and attractive training sessions include: 
Establish goals before implementing.
Like every other operation, setting the goal of your training will help you focus in the right direction when it comes to planning and execution. 
Before you create a training for your creative or sales team, get your answers to a few basic questions such as why do you need to train your employees? Or what is the problem that is being solved? 
When you have a set of authentic needs and problems, you will be able to cater to them in a much better way (read effective). Moreover, you can also figure out which training objective needs to be addressed first, the one that'll have the biggest impact on your business. 
Create personalized and engaging learning experiences.
Learning experience plays a major role in making training appreciable for employees. A learning experience is somewhat akin to a user experience. When your users are not satisfied, they wouldn't want to come back to your brand or company. 
Thus arises the need to create and execute a personalized, interesting, and engaging learning experience. Make sure your training is more people-centric. The more their questions are answered, the more relevant it will be for them. 
Also, you can make the training more social and gamified. Add a few pointers and leaderboards to nurture the competitive nature of your employees as well as to keep them engaged. 
Choose the right time to execute training.
When someone said there is a right time for everything, they meant every word of it. It is crucial that your employees are getting trained when it is the most useful to them. Otherwise, your sessions and programs might just lose out on their purpose. 
For instance, you can offer training to your sales team right before a new product is being launched in the market. 
With the right digital tools, you can also add features that will push messages to your employees, reminding them of the training material when they are stuck (spending a lot of time on a certain screen) or in case they are using it incorrectly. 
Monitor results.
The only way you can be sure about your training being effective or ineffective is when you finally start monitoring your results. These training programs are not static. They will eventually be needed to evolve and improve with time and performance of employees. 
Tracking your employees' performance and watching them interact with your program only makes the above-mentioned task a lot easier for you. 
You can keep a check of their quiz results, measure the time they spent or took to complete the program, maybe ask the feedback directly. Whatever method you choose, just make sure you are keeping a track of employee training performance. 
Conclusion.
Executing employee training for marketers can often seem like a task. However, with the right methods and right tools, this might just be a breeze.