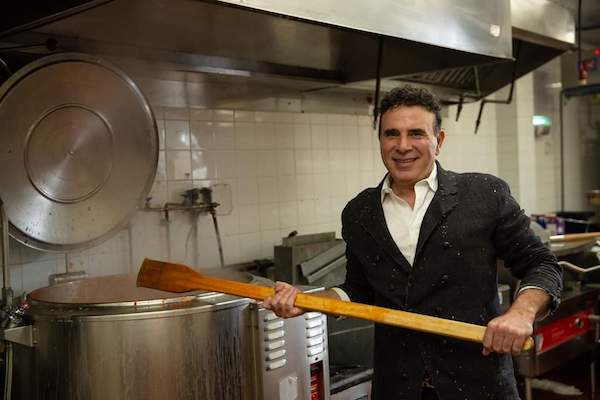 Hospitality is unique, ever-changing and one of the world's largest industries. It takes a lot of time and commitment. An already challenging industry, the economic impact of the COVID pandemic certainly brings a new level of issues.
Those managing and operating in the hospitality and food industry may be wondering how to weather such a storm.
One such industry entrepreneur, Carlo Parentela, owner of Château Le Jardin Event Venue, a major wedding and event facility in Vaughan, Ontario, has had years of experience to understand how fluctuations in the economy can impact the industry.
Inspired by his father, who owned a banquet and catering company, Carlo joined the family banquet business as president in 1984, running the one-room banquet facility. A year later, he purchased the company, opened a second room on the premises and grew it from an 8,000-square-foot facility to a 80,000-square-foot facility, now known as Château Le Jardin Event Venue.
While growing Le Jardin, Carlo, who has an engineering degree with a focus on civil engineering technology from the University of Guelph's Humber College of Applied Arts & Technology, also launched and grew other ventures; that included developing an innovative software application for the banquet and events industry called CaterX, which helps with anything from event creation and management to commission allocation and menu creation.
We asked Carlo Parentela his advice for others working in the hospitality industry during this uncertain economic environment, and what he's learned overall during his career.
The meeting, banquet and catering industry has taken a major hit this year due to the COVID-19 pandemic. How have you adapted and pivoted to keep the business running?
Carlo Parentela: We have adapted by providing delivery, take-out and off-premise catering, but unfortunately we're limited by what we can do in our industry.
Have you ever experienced anything that affected your industry like COVID and how did you handle it?
Carlo Parentela: We have never experienced anything like this in our industry.  There was SARS, but there weren't any shutdowns, so business continued as usual with perhaps a 20% drop.
What advice would you give to new hospitality entrepreneurs during this volatile economic environment?
Carlo Parentela: I would suggest that they wait to open up, make sure that they have a Force Majeure clause in their rental or mortgage documents, so in case of anything happening out of their control they don't have to pay.
Rather than launching a company from scratch, you joined the family business and learned it as you developed your own ideas for growing it. What advice would you give to those without that background?
Carlo Parentela: I suggest that anyone wanting to open up a restaurant or catering business start selling hot dogs on the street, understand how clients are, understand the hours and how many times you'll have to do all the work yourself.
Then, slowly progress up and learn every aspect of the business.  In chef school, the first thing students are taught is how to wash pots and pans.  You need to know all aspects of the business if you want to delegate people on their jobs.
How does someone like yourself, who owns an existing business, explore, evaluate and ultimately decide what new companies or additional products and services are worth introducing?
Carlo Parentela: Always talk about your ideas with those around you and hear their pros and cons and any advice they give. Remember to listen to everyone, don't judge anyone and accept all critique.
Then, give your ideas a sample start; this should be free or priced low in the beginning. Make sure your customers know they're getting a discount to be the first ones to try a new product or service. After that, slowly perfect, write down the program, train all your staff and then run with it.
Entrepreneurship requires a lot of self-confidence, tenacity and patience, especially when things are just starting up. What advice would you give to aspiring entrepreneurs who want to become self-sufficient?
Carlo Parentela: That it's all about persistence. If they believe in their business, then they should never ever give up.  However, do bend and change your product and/or service according to what you hear and your experience. Go forward and make your product better; but never give up, it's all about persistence.
What would you tell entrepreneurs who are still dreaming of opening a business in the food and hospitality industry despite the effects of the pandemic?
Carlo Parentela: I would say that they start with little or no overhead, don't lease when they can buy the equipment, borrow what they can and slowly build up their inventory. Because if times change, they will be happy not to have overhead that they can't pay for.