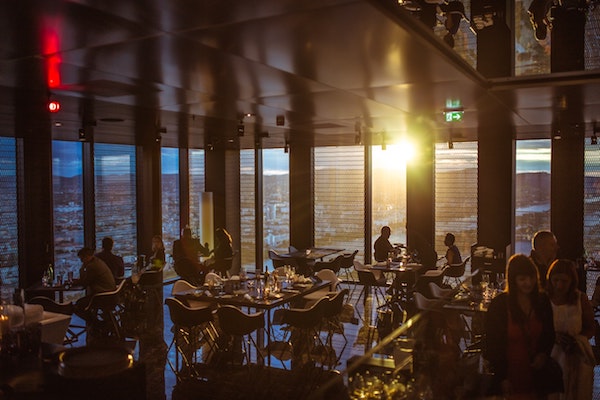 Restaurateurs have experienced a tough year, what with lockdowns ongoing and new restrictions to adhere to. Now more than ever, it's important to improve your restaurant management, to stay afloat, and boost success.
To support your restaurant management in 2021 and beyond, take a look at these software options and tips.
Restaurant management software.
1 . Lightspeed.
Using Lightspeed software, restaurant owners can manage their whole restaurant or cafe from their iPad. It's a POS-based system, which you can personalize to suit the needs of your business. Support your staff with this handy cloud-based system, which allows your servers to minimize errors and move fluidly. Lightspeed helps you to upsell easily and interact throughout the entire ordering process. Here you can create detailed sales reports, monitoring customer habits, trends, and best-selling items. With the Lightspeed system, you can update your floor plan, provide flexible payment options, and offer a faster service.
2. Upserve POS.
Upserve POS is one of the leading Point-of-Sale systems for the restaurant industry. The software offers a simple to use interface and smoother operations. Restaurateurs have the option to combine Upserve HQ along with payment processing systems. A few of the best features of Upserve include splitting items and checks, training mode for new hires, offline mode; restaurant analytics; and menu intelligence. For a top solution to manage your restaurant, Upserve is a great choice.
3. EagleOwl.
With the EagleOwl restaurant management platform, restaurant owners can improve their bottom line by a reported 20%. The app offers valuable insights to improve your operations, resulting in improved margins and lowered food costs. With the EagleOwl platform, you can access features like menu engineering, recipe costing, purchase order management, and supplier management. The software also provides powerful collaboration features, production costing, automated consumption reports, and more. To organize your inventory and improve your operational efficiency, EagleOwl is just what you need.
4. TouchBistro.
TouchBistro is a Point-Of-Sale tool to support restaurant staff, 24/7, and from anywhere. No matter if your restaurant is casual, fine dining, or a pub, Touch Bistro offers a streamlined and affordable POS for your restaurant management needs. Using this software platform, you can boost sales, enhance your service, and improve your decision making. The software allows you to manage tables and floor plans; scheduling and staff; organize your inventory; manage your menu, and more. As well as all this, there are also analytics and reporting tools, all accessible in the cloud.
5. Toast.
Toast is one of the top restaurant technology platforms; here, you can take advantage of gift card and loyalty programs, online ordering, sales reporting, and a POS system, all of which are cloud based. Using the Toast software, you can enhance your operations, boost revenue, and improve your business insight. If you're looking for technology for your restaurant business, Toast is a great option to create the best dining experience.
6. OrderUp.
OrderUp is a restaurant technology & software startup out of Toronto, Canada. They provide restaurants, food halls and breweries with a QR code ordering & payment system. Some of their features include a tab system, where guests can open a tab and continue to order throughout the meal. Inventory control, promotions and promo codes as well customer relationship management tools such as guest email export for marketing purposes. The OrderUp Point of Sale (POS) is designed to be low-cost and simple to use. With OrderUp, there are no monthly fees or heavy commission charges. All you need to use OrderUp is a QR code menu and a tablet or laptop with internet access.
Tips for restaurant management.
7. Create more outdoor space.
As the pandemic continues, it's a strange and trying time for the restaurant industry. At this time, many diners prefer to eat outside, either that or because current restrictions require it. To respond to these changes, it's a great idea to create a larger outdoor dining space. With the winter months upon us, you'll need to install plenty of heaters and lighting to make the space as comfortable as possible. Add coverings to keep out the rain, music for ambiance, and show your diners that alfresco dining is actually pretty fun!
8. Even more social media.
In our current climate, people are spending more time online than ever before. To widen your reach, you've got to boost your online presence on social media. For a few ideas to do this, check out these:
Video: To expand your audience, use video marketing on your social accounts. Whether it's a fun recipe tutorial or a peak behind the scenes at your restaurant, video is one of the best ways to boost your credibility.
Use the right tools: To improve your social media campaigns, you've got to use the right tools. Try platforms like Buffer to support your campaign with the right scheduling and analytics. You could also take a look at Buzzsumo to find some great influencers.
Growing your online audience is a fantastic way to hold onto your existing customers, and reach new audiences.
9. Support the community.
Supporting the local community is one of the best ways that you can manage your restaurant business. Try to source a few of your foods and drinks products locally, doing so will enhance your reputation. During these trying times, you'll do wonders for your branding by showing that you are supporting small businesses in your neighborhood. Make sure your customers know that you're eco-friendly, healthy, and giving back to the local economy. When businesses work together to support one another, the local economy is far more likely to thrive.
10. Review your equipment.
Might sound simple, but running a successful restaurant means regularly assessing the equipment that you use, to check for quality and maintenance issues. Whether it's your craft beer barrels, your ovens, or your air cooled chiller, it's wise to run frequent maintenance tests and risk assessments.
As the year draws to a close, it's time to create a restaurant management plan to boost your performance in 2021! With ongoing challenges to face, restaurateurs must remain both creative and resilient.