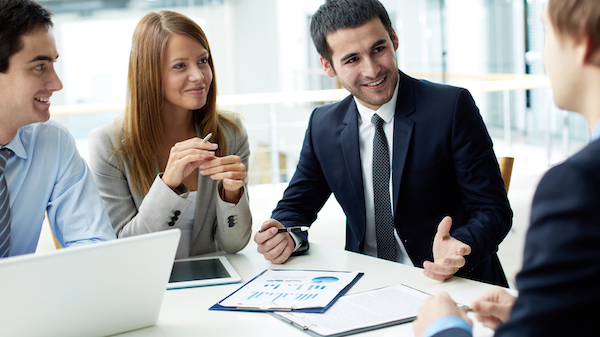 by Erin Yurday, CEO, Co-founder and Editor of NimbleFins
Consultancy is a career option for professionals in a wide range of industries – marketing, finance, accountancy, architecture, business management, the list goes on. Although the industries may not have much in common, consultants of all stripes face some of the same risks in their work.
Here are the five risks you as a consultant should know about.
1. Giving the wrong advice.
Talking clients through various situations, giving recommendations and offering advice is often part of the everyday work of consultants. What is easy to overlook is the considerable financial risk involved. If a client takes your advice but things don't work out quite as planned, the client can sue you for the financial losses they suffered.
For example, if you as a business management consultant advise a client on how to increase their profits in the next financial year, but they end up suffering a loss, you can be liable for professional negligence.
2. Violating intellectual property rights.
Many of us don't give too much thought to laws and regulations outside of our main field of work. But even if you are not working in a creative field, intellectual property rights are something that should concern you. It's too easy to get yourself into trouble over copyright, for example by getting a photo off Google for a presentation, or even using your client's materials without a proper agreement.
3. Making a misstep online.
Viruses and malware can be found everywhere online, and chances are most of us have had to deal with one at some point in our lives. Professionally, failure to avoid hazards online can open you up to legal liability if you cause damage to your clients.
For example, if you receive an email and forward it along to your client, you might not know it contains a virus. If the virus corrupts your client's database leading to financial loss, you can be sued as a result.
4. Losing documents.
People make mistakes, as do computers. Sometimes, documents get lost, and if they are valuable, you can be sued for losing them. It's a good idea to back up all documents, for example by using an external drive or cloud software.
Apart from losing documents, another common risk for consultants is mishandling sensitive information. If a client's confidential document ends up in the wrong hands because of your mistake, you can face an expensive lawsuit.  
5. Failures by employees or service providers.
Growing your consultancy business is great, but a larger team brings more responsibility and increases your risks. Any acts of negligence committed by your employees can lead your business to a lawsuit. All the points outlined above apply to people in your team as well.
If you use any service providers, their failures can also impact your work. Even if you are not found liable, a legal case can bear considerable costs, both in terms of time and money.
How to minimise risk.
We all try to be careful in our work, but mistakes and accidents happen. So how to minimise risks as a consultant?
Apart from following protocols and being diligent, it's worth considering the insurance needs for your profession. The risks outlined above fall under Professional Indemnity insurance, which is considered a must-have for consultants in many industries.
The costs of Professional Indemnity insurance vary widely by profession – management consultants and software developers can expect to pay around £114-£174 a year on average, while architects can expect to pay upwards of £1,300. Although insurance coverage can be pricey, it does improve the financial security of your consultancy in the long term. Some clients also require consultants to have a Professional Indemnity policy in place, and may even ask to see the certificate.
Now that you are aware of the common pitfalls faced by consultants across the board, you can weigh the costs of insurance against the risks relevant to you and your profession.
Erin Yurday is the CEO, Co-founder and Editor of NimbleFins, a market research company specialised in aiding businesses and professionals in their decision-making. Prior to NimbleFins, she worked as an investment professional and as the finance expert in Stanford University's Graduate School of Business case writing team. Read more on LinkedIn.