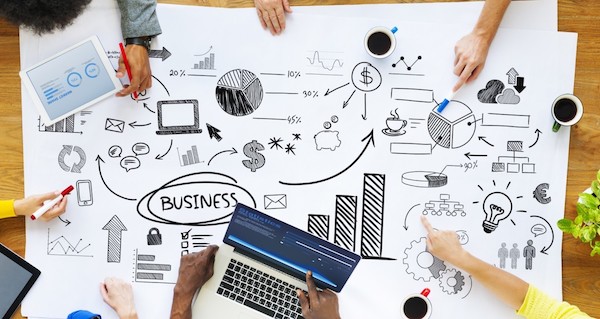 As a business owner, your company is a huge part of your life. You put your all into your business to make it the best it can be. Your passion for your customers is clear, and you're proving your drive by growing an organization from nothing. No matter how far you've come, there is always room for improvement and the opportunity to take your business to the next level. After all, you didn't come this far to just be mediocre.
Businesses succeed when they are efficient and goal-oriented. The more you can streamline your processes and work smarter, not harder, the more you can achieve. Don't try to do too much. Instead, stick to your business plan and implement a straightforward strategy to make your company the best it can possibly be. Keep reading for a few tips and tricks to make your business even better than it already is.
1. Connect your communication.
Communication used to be simple — you would send a letter and wait for it to arrive to it's physical destination, or call someone on the phone and have a one-on-one conversation. But that's no longer the case. The internet has led to an explosion of communication channels and, as a business owner, you're responsible for all of them. But you don't have to do it alone. OmniChannel contact centers developed by BrightPattern are a tremendous tool to connect with your customers in a deeply personal way across multiple channels seamlessly. You can give the ultimate customer experience and make your sales reps even more accessible through this excellent cloud-based system.
2. Configure custom products.
As a business owner, you're prepared to give your clients everything they need. Sometimes that involves custom products with different quotes and prices. Rather than spending your valuable time configuring these quotes, why not get a software that can do it for you? Configure, Price, and Quote, or CPQ software, does just that. By configuring even the most complex product, this CPQ tool can then price out the product and give professional, exact quotes to your clients. If you're a small business selling configured products, this solution could be a breakthrough for efficiency and ease.
3. Streamline presentations.
Any business, especially a new one, will make many professional presentations to attract investors, customers, or clients. You can make your business better simply by upping your presentation game. You can find Google slides templates that are specifically designed to make your business presentation look professional and put together. Using a free Google slides theme is a simple, straightforward tip to help you build successful PowerPoint presentations that get information across effectively while gaining more clients.
4. Monitor financial growth.
Business is all about profits and growth margins. To grow a successful business, you need to be on top of your finances. Hire an accountant or have someone in your office in charge of watching your net profits and expenses. Watching your cash flow is a must if you want to be successful.
5. Utilize high-impact, low-cost marketing.
If a business exists in a forest and no one is around to see it, does it even make a sound? Who knows? For this reason, getting your name out there is essential to make your company the best it can be. A marketing plan that is high-impact and low-cost will be your best bet to reach a wide customer base without breaking the bank. Try out a few options before fully committing to the right plan for you.
6. Encourage team camaraderie.
A good business needs a good team running it. To be the best, you need to have a group of people who are dedicated, passionate, and excited about the work you're doing. Make sure everyone is working toward the same goals and utilizing their talents to the best of their ability. Employee morale is more important than anything, so keep the team together to strive for success as a unit.