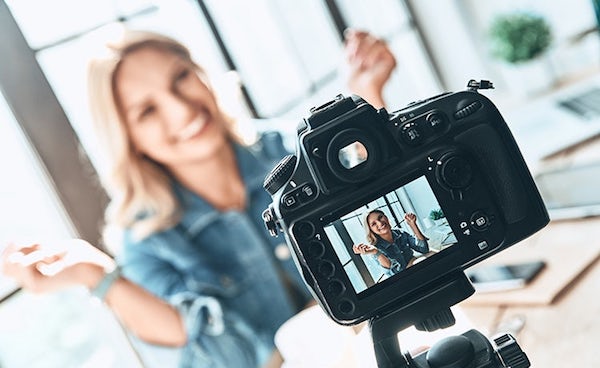 If you're an e-commerce site, you're probably always looking for new ways to generate more sales. And if you can find influencers to promote your e-commerce on social media, you may be able to achieve this goal.
Did you know that 87% of consumers say they've made a purchase based on content they saw from influencers? If you've already launched influencer campaigns, hopefully you saw similar results. And if you haven't yet dabbled in influencer marketing, now's the time to try it out.
Keep reading for five tips for launching influencer marketing campaigns for your e-commerce business.
1. Take a look at your social networks.
If you want to launch an influencer campaign, you need to have social media accounts. And before launching any campaigns, you should make sure your social networks are up-to-date and appropriately branded. If your brand has no presence on social media, it may be difficult to find an influencer who wants to collaborate with you.
Therefore, make sure you have a biography or about section, include a link to your website, list some ways to contact your company, and publish content to your feed. Likewise, on your website, put links to your social media accounts so that users can move easily between the two. Aim for consistency and coherency between the content, aesthetics and information displayed on your website and social networks.
If your profile is on a network that allows reviews, try to get some recommendations from past customers. You could potentially offer customers an incentive – like a discount code – in exchange for their positive review.
Further, if the social network allows it, you should convert your accounts to business accounts. Having this type of account will provide you with more information about your profile and audience. On Instagram, for example, you can do this by accessing Settings.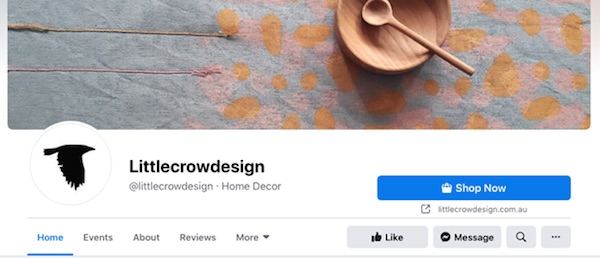 Little Crow Design is an e-commerce from Sydney, Australia that sells home decor items. You can see that their Facebook page is clearly linked to their website.
2. Define your campaign objectives.
For all marketing campaigns, the most important part is deciding on the goals you want to strive to achieve. Although for e-commerce shops the primary goal might be to increase sales, there are other valuable things influencer marketing campaigns can bring to your company. You may want to drive traffic to your website, increase your followers on social media, or boost the visibility of your products.
In order to effectively track your campaign's success, you should have an account with an analytics service that can report on metrics like web traffic, sales, and clicks of specific links. This is also the time to set up any campaign-specific mentions, hashtags, links or discount codes you plan to use. These elements will help you track your analytics later on.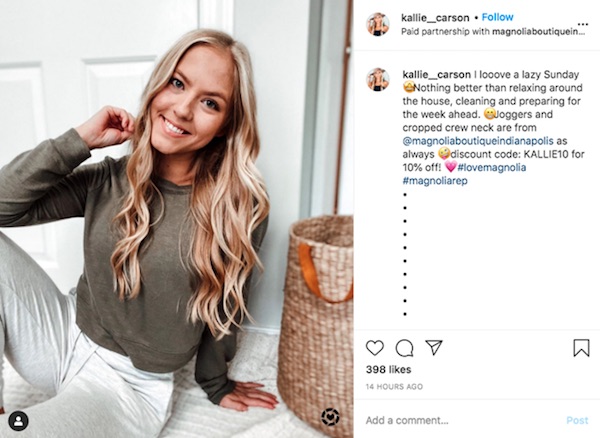 @kallie_carson advertising her discount code for @magnoliaboutiqueindianapolis, an online clothing boutique.
In addition, set up your campaign schedule and budget. When do you want to achieve your goals? Just remember that not everything always goes according to plan. Your chosen influencer may be busy, or you might encounter unforeseen shipping delays. Retain some flexibility in order to deal with any hurdles along the way. Likewise, know what you can offer each influencer in terms of incentive, and remember that down the road you may have to negotiate that.
3. Target the right type of influencer.
Once you know what you want out of your campaign, it's time to find influencers to help make your dreams a reality! But while it's easy enough to find any influencer, locating the right one for your brand can be a bit tricky. Here are some things to consider when you start your search.
First of all, which social network are you launching on? Make sure you choose an influencer who has good metrics on that platform. And keep in mind that metrics differ a bit across the different networks. Engagement isn't the same on Instagram and Youtube, for example.
Next, consider what category of influencer you want to contract. Think outside the box here, too. If you're an e-commerce that sells home decor items, you may want to look into influencers who fall into categories like lifestyle, fashion, mommy, or DIY. While those categories might not be exactly how you define your brand, exploring them could introduce your products to new audiences.
Finally, think about which of the influencer tiers you want to target. For both big and small brands, micro influencers are a great option. They're considered experts in their fields, they have some of the highest engagement rates on social media, and they're budget-friendly.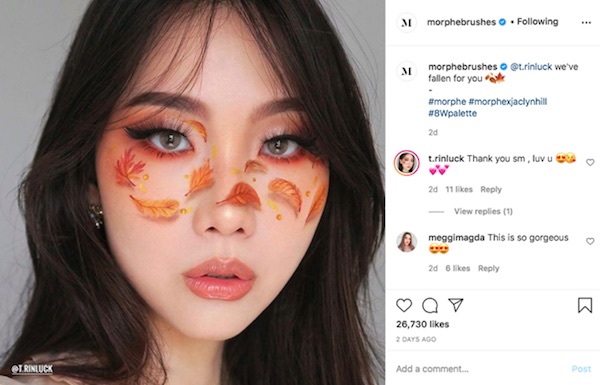 @t.rinluck, a Thai micro influencer with 20.2k followers, has collaborated with @morphebrushes, a cosmetics e-commerce site. 
4. Analyze influencers.
Finding and choosing influencers will be much easier with an influencer marketing platform, which can guide your search as well as provide important analytics to help you make the right decision.
When comparing influencers, two of the most important metrics to analyze are their number of followers and engagement rate. Engagement shows the level of interest in an influencer's content. This metric is extremely important, as it provides an indication of how much interest could be generated in your brand should you choose to collaborate with the influencer.
In addition, take a look at the influencer's audience. If you're using an influencer marketing platform, you'll have this information available. But if not, you'll have to ask the influencer directly for their audience metrics. However you acquire this information, make sure the influencer's audience matches your target's audience. If not, you may miss opportunities.
For example, imagine you want to increase sales of your products in Spain. You choose an influencer based in Madrid. However, you fail to realize that most of that influencer's audience is based in Latin America, where your company doesn't ship. Now, you might end up with some brand awareness in Latin America, but you won't achieve your campaign goal, as that audience can't buy your products.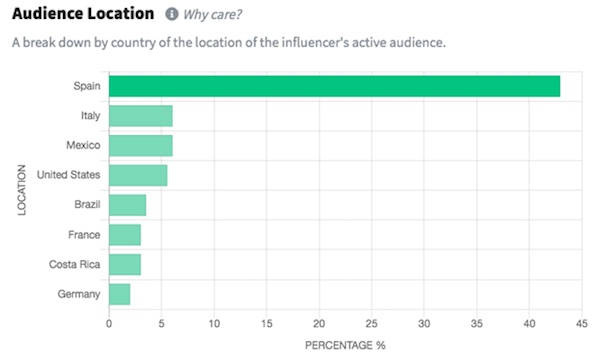 An influencer marketing platform can help you analyze important stats about an influencer's audience. 
Last but not least, make sure the influencer's feed meshes with yours. You'll want someone who embodies your brand values. You'll also want someone with a similar aesthetic style, in order to maintain a sense of coherence in your branding.
5. Reach out!
Once you've selected some influencers who match your brand's image and goals, it's time to contact them. Maintain open and friendly communications when negotiating collaborations. Take the time to tell the influencers exactly what you hope to achieve and how you want to do it. Answer any questions they may have regarding your product, content or brand.
If you're working with nano or micro influencers, you can probably close a deal for product alone. However, some micro influencers, and nearly all top influencers, will also ask for an economic fee. Negotiate until you find something agreeable to both parties.
After the campaign launch, monitor the published content and its results. If your campaign is successful, don't hesitate to work with that influencer again in the future. And if the results didn't meet your expectation, analyze why. As long as you keep an open mind, there's always something to be learned to help you improve next time.