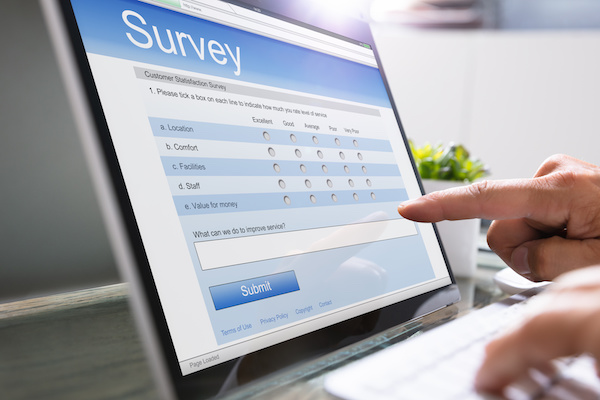 Survey websites offer a win-win solution for both business owners and consumers. With these platforms, the former can now conduct market research to improve their companies at a relatively affordable price. Paid survey sites are where they can find honest opinions about their products and services.
For the latter, answering online surveys allow them to earn a little extra on the side. If you have free time, you can still be productive and make money with minimal effort. Joining these platforms is a useful way to spend all the free time you have due to the current coronavirus pandemic.
How To  Start.
The first step to take is to register with top paying survey companies. You can easily find these through search engines. Google even has its own market research platform called Screenwise.
When you register for an online survey, you'll be asked to answer a few questions about yourself. These details are, then, used to create a profile that's displayed to other members. You'll be asked to answer several surveys, ranging from simple ones to more in-depth surveys, like, "How many hours per week do you spend working at home?"  You'll also be asked to select your preferred countries so you can be sure you're able to take surveys from all over the world.
Types Of Rewards.
A majority of survey websites have a point system, wherein members earn merits through the actions they perform. Their scores are converted into different forms of rewards, such as:
1. Cash.
Some platforms pay their members with cash. Typically, the money will be deposited into the user's electronic wallet, like their PayPal account. From there, you can transfer the funds into your personal bank account and use it accordingly. Of course, you'll have to reach a minimum number of points before you can withdraw the money.
2. Gift Cards.
The most successful online surveys pay in the form of gift vouchers. You can make money from home using paid surveys, and you can easily get started by following some simple steps. There are many websites that offer gift cards as a reward, but it's the survey sites that are truly worth your time.
Gift cards serve as debit cards. These contain funds that you can use in your favorite shops. Survey websites give out vouchers or codes to members who successfully achieved the minimum number of points. Then, users can purchase anything they want through the card.
Survey websites partner with retailers and restaurants to provide participants with a variety of gift card options. This is why answering surveys is one of the legitimate ways to make money online.
3. Coupons.
Another way that you can earn on survey websites is through discounts. Similar to gift vouchers, you may receive a digital coupon, which entitles you to a price reduction. You can use this upon checking out on your favorite online shop.
Other Ways To Earn.
Aside from answering online surveys, these market research platforms also offer other ways for their members to earn money on the side. Most of these alternatives require minimal effort so that you can give yourself a break from multiple-choice tests or essays.
These are the other ways that you can earn through survey websites:
1. Read Online Articles.
A lot of these platforms reward members by reading online articles that they promote on their websites. When users take the time to go through blog posts from their partner companies, the latter benefits from the level of engagement that their content receives, which has a significant bearing on their digital marketing efforts.
2. Watch Videos.
Similar to reading online articles, survey websites also promote videos that members can watch in exchange for an equivalent number of points. These videos are usually trailers, whether from movies or games.
Companies partner with survey websites due to their substantial membership base. They benefit from the increased number of views that their videos acquire through these platforms.
Videos can range from as short as 30 seconds to five minutes.  You don't have the option to skip the ad, unlike YouTube, since you're getting paid to spend time viewing the entire video.
3. Download New Apps.
Another option that you have to earn extra cash on online survey websites is to download new apps. These can be from any category, whether it's software for taking down notes or something related to health and fitness.
Downloads are also a crucial factor in boosting a company's marketing campaign. This is why it's one of the tasks that you may encounter in survey sites.
When you download an app, it's best to explore it and check the navigation, as well as interface. Who knows?  You might end up using and incorporating it into your daily routine. Plus, you might be asked to answer a survey about the software.
4. Test Video Games.
Just like downloading a new app, you may also be asked to test video games. More than benefitting from the number of downloads, video game companies need people to check their games for bugs and other glitches.
As a member of online survey websites, you have the privilege to test video games and provide valuable input to improve the gameplay experience they provide to users. This is a great method for people who enjoy trying out and reviewing new games on the market.
5. Complete Specific Tasks.
Survey sites also reward specific tasks based on their partners' needs. You may be asked to shop online or find trial offers using the platform. Another possible thing that you may need to do is to install the website's toolbar, which you can use when typing queries online. The company can even reward you for redeeming your codes, which allows you to hit two birds with one stone.
Conclusion.
Online survey websites are viable options if you're looking for an easy side hustle. Make no mistake, however; you still need to put in the time and effort to earn additional income. Fortunately, the process is relatively straightforward, and you can do it right in the comfort of your home.