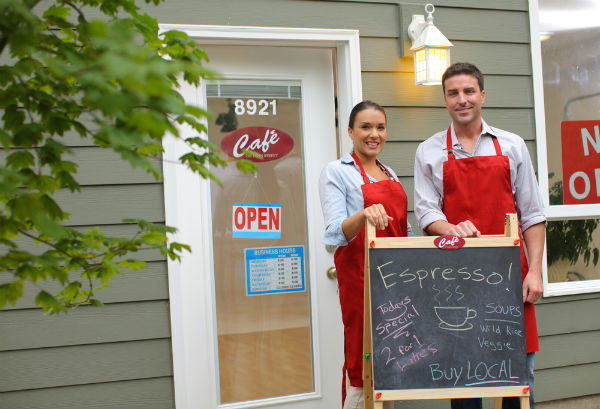 As a retail business owner, curb appeal probably isn't the top thing on your mind. However, maybe it should be. Research shows that curb appeal plays a key role in drawing people into the store and placing them in a position and frame of mind to buy.
Why Curb Appeal Matters.
Curb appeal might not close a sale, but it sets you up to make a sale. In other words, you can't get someone to the register if you don't first convince them to walk through the front door. 
But just how much does it really matter? A lot – at least according to one expert.
When the town of Maggie Valley, North Carolina was experiencing a rapid decline in tourism a few years ago, they called in a consultant to help them regain some of the foot traffic that was becoming increasingly elusive.  The consultant's conclusion? The town had a problem with aesthetics.
In the consultant's opinion, the town's shopping districts lacked curb appeal. As a result, people were no longer attracted to the area. This negatively affected all local businesses, which left businesses with even less revenue to invest into curb appeal. (A vicious cycle.)
According to the report, 70 percent of first-time sales are based on curb appeal. So if you want to drive sales numbers up, don't be afraid to lead with aesthetics. 
4 Simple Tactics for Boosting Curb Appeal.
Whether you own a small-town corner store or a popular, high-end boutique in the city, here are some useful tactics you can use to boost your curb appeal:
Begin your curb appeal makeover by taking inventory of any obvious flaws that are negatively impacting your store's attractiveness and/or ability to welcome people in. Dealing with these becomes the first priority.
One common issue businesses have near their entryways is cracked and splitting concrete. Not only can this be an eyesore, but it's also dangerous – potentially causing customers to trip or stumble. 
Believe it or not, concrete can be fixed for much less than you think. Try hiring a company to conduct a repair, as this typically costs 50 percent less than replacing it.
Other imperfections may include damaged siding, fading paint, peeling window film, and other similar items that have fallen into disrepair over the years.
Pay for Professional Landscaping.
If you're like most store owners, landscaping is something you do because you have to. And you probably do the bare minimum just so people don't complain. But if you really want to wow people as they pass by and/or enter your store, invest in professional landscaping.
A professional landscaping plan will make sure your trees and shrubs are trimmed, beds are mulched or strawed, grass is mowed in clean lines, and there are pops of color to create visual interest.
Invest in Proper Signage.
Your store's signage does more than tell people where your store is located. It sets the first impression – good or bad.. It sets the first impression – good or bad. A faded, ratty sign says you're either no longer in business, or you've fallen on hard times and probably don't have much to offer. A fresh, contemporary sign displayed on a wall mounted acrylic sign holder, on the other hand, shows that you're alive and well. It magnetizes people to your storefront and makes them stop in for a visit.
Get Window Displays Right.
Window shopping is alive and well. If you want to impress people as they pass by your store (and encourage them to come in), you should go to great lengths to ensure your window displays are captivating shoppers.
Every good window display begins with a theme or story. We'll call this the concept. Then based on the concept, there should be one key focal point. Everything else then supports this focal point. The objective is to display your products in a way that makes people curious enough to come inside. If you can do this, you're winning.
Put Your Best Image Forward.
Curb appeal might not seem like the most important element of your business, but it matters more than you realize. By giving it the attention it deserves, you set yourself up to be successful in both the short term and the long run. Pick one or two of the tactics outlined in this article and focus on them this week. Progress breeds results!