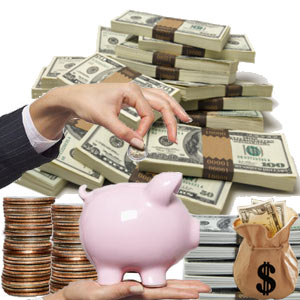 If you aspire to be a small business owner, but lack the cash necessary to realise your idea, then you might turn to several different means of funding. You might look to friends or family members to lend you the money, or to high-street or online lenders. You might re-mortgage your house.
For many would-be entrepreneurs, however, the safest way of finding the money is to save it, little by little, over the course of months and years. Until the business becomes profitable, you'll be wise to economise in your personal life so that you have as much cash as possible to support your business.
What saving measures might we implement to help with a startup?
Make a Budget.
If you get all of your costs down on paper, you'll be amazed at how much fat there is to trim. Record all of your expenses, and study your bank statements. If you're going to be really organised, then you might look to a digital solution for your record keeping. It'll make it easier to study the data, and to budget for the savings you're making. You might come up with a flowchart for cuttings costs – ask yourself whether your business will benefit from a given piece of spending. If not, then bin it!
Covering travel costs.
Getting from one place to another might well be essential for your business. There's only so much that phone calls and teleconferencing can do, after all. If you're using the same car for business as for personal use, it's worth looking into how you might economise on running costs. Keeping tyres inflated is a simple measure. But you might also look into specialised insurance and warrantees from providers like ALA.
Quit Smoking.
Smoking isn't just an antisocial and unhealthy habit; it's also an extremely expensive one in the long-term. If you can quit, then you might find that you suddenly have an appreciable cushion of extra funds. The same applies to other luxuries like drinking and takeaway meals. Think of it as an incentive – once you've reached an arbitrary target for earnings, you can reward yourself with a bottle of scotch and a fat cigar.
Be Careful who you Call.
Phone numbers which begin with 0870 can sting you with hidden charges. If you're having to make a lot of phone calls to strangers for business purposes, you might find yourself frequently dialling numbers of this sort. Cut them out, or look for alternatives.