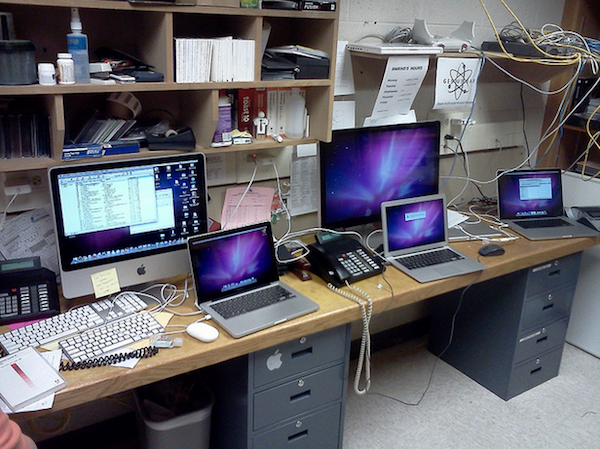 You're considering employing the help and expertise of an IT support provider, but you aren't quite sure what they can do for you. Can't you just do everything yourself? While some business owners may be tech savvy enough to get by, there comes a time when you need to bring in the experts. You know technology is important to your business, and even more critical to its growth. You know that in order to compete with other businesses, you must prioritize technology and its support.
But can an IT company really propel your business forward?
Yes, it can.
And it's more than just fixing little bugs and glitches.
Rather, companies like Mustard IT in your area can help you improve your business' processes, and enable your team members to utilize technology to its greatest extent in order to serve your customers better.
But what exactly do these tech wizards do better than you to achieve this?
1. Troubleshooting.
This aspect of IT support is perhaps the most obvious: IT experts are there to help your staff solve tech errors as they occur. A great IT provider will have 24/7 support so your employees can get the help they need at any given time, even while working remotely – which isn't just for lockdown for the foreseeable future.
Your staff will know that they can rely on professionals when their work is suddenly halted by an oftentimes annoying technological issue. Instead of wasting time, effort, and becoming frustrated with their tasks at hand, your staff can get right back into it. Plus, they will have peace of mind knowing help is there any time they need it.
2. Maintenance and Updates.
You may think of your IT specialists as a helpdesk, but they can do much more than that. One of the key tasks they support your tech systems is to regularly update them. For a business team that doesn't focus on IT for their career, this aspect of IT may be easily overlooked. Oftentimes, these employees unintentionally wait for technological difficulties to arise before becoming aware of any issues.
If, however, your business employs an IT company, it is part of their job to do regular maintenance checks to prevent problems before they happen. This can save you significant time and money in the future, especially if they prevent data or privacy catastrophes. At the very least, it saves your team from interrupting their workflow. Further, delivering updates to your software and checking your hardware will ensure your staff can do their work as efficiently as possible. How can they keep up with your competition if the competition is using more advanced versions of the same software or technology?
3. Security Control.
Technology is wonderful and – many would agree – vital for your business today. Yet, there are some dangers associated with it, especially regarding sensitive information leaks. It is essential your business take precautionary measures to guard against potential threats to its data, and -more importantly – the data of your customers. IT specialists take your information's safety very seriously and protect it by drawing upon their vast experience and knowledge. They often spend time updating their own knowledge on the newest ways hackers can infiltrate company systems. This is absolutely necessary, especially considering that the nature of cybersecurity threats is constantly evolving.
Additionally, an IT consultant will take extra preventative measures to make it difficult for hackers to reach you in the first place; like setting up a firewall and ensuring your network is secure.
4. Offering Consultancy.
Because IT experts work with many different businesses, they gain significant insight into what works and what doesn't for certain businesses. They can foresee when issues may happen because of this breadth of experience. They acquire knowledge of consultancy and legal affairs related to technology and data, so you don't break any laws without meaning to. In this way, IT professionals can guide your business towards success by giving their expert advice based on years of experience.
A great IT support team will take the time to sit down with you during the onboarding process to learn about your business and how technology can better serve you, your staff, and your customers. They should also care about your future goals and take these into account while directing you.
5. Liaise Between Third Parties.
Everyone knows those in the tech world basically speak their own language. When you want to complete a task the right way, it can be daunting trying to communicate properly to someone using jargon that is difficult to understand.
For example, if you want to relocate your office, you may need to speak to several third parties which handle technological matters. Perhaps you're trying to get a network installed in the new location, but it is difficult to communicate with the network provider. An IT support team is there to make it easier for you to get the job done, and they will do as much as they can for you to ensure it's done right.
IT Support is More Than Just Tech Knowledge.
A wonderful IT support specialist isn't just a tech expert. After all, they are there to provide a service to you. That means they shouldn't just have extensive knowledge and experience with tech and business consulting. They should be organized and know how to prioritize tasks; be effective at communicating so they can understand your present goals and future needs – and help you attain them with technology – and they should have a high attention to detail, and be able to think several steps ahead so you're as prepared as possible – and won't miss anything that will cost you later.
They absolutely must be excellent at problem-solving, and – most importantly – be able to think on their feet and stay cool under pressure in case of a crisis. IT specialists don't just know about technology; they use it to help your business become as successful as possible.