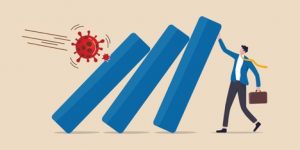 In the midst of a crisis like the COVID-19 pandemic, businesses need to reevaluate their approach to marketing. Luke Lazarus of Luke Lazarus Consulting knows this doesn't mean that you need to stop trying to connect with potential and current customers. It just means that you can't simply soldier on as if nothing has changed.
Being a voice of stability and positivity in a stressful situation provides comfort and hope. Here are some suggestions from Lazarus' marketing expertise on how to approach your marketing strategy so your actions support your objectives.
Focus on Your Brand's Strategy.
Even though times are grim, and people are scared, the last thing you want to do is add to their stress. Instead, focus on your brand's vision, purpose, values and mission as a guideline for future interactions with others. Don't be afraid to let these characteristics come through in what you share on behalf of your brand.
Get Your Employees Involved.
This is the perfect time to really let your employees' personalities shine and get them involved. Lazarus recommends developing employee-generated content, that can be as simple as polling them for their favorite ways to keep the kids active while they're staying at home or their favorite binge-worthy television viewing and sharing the results.
Keep the Future in Mind.
Don't forget that this pandemic will eventually pass. During this challenging time, people need to see and hear that brands are optimistic and hopeful about the future.
When crafting your marketing strategies, keep the human side of this equation squarely in mind. It builds a sense of connectedness that many people need in their lives right now.
Accentuate Your Brand's Helpfulness.
Every brand offers a value proposition that is helpful to some segments of the population. Be sure to communicate these benefits if they are especially relevant during this pandemic. Focus on the unique potential your brand has to help people weather this unprecedented time and highlight that.
Deliver Helpful Content.
Maybe your brand isn't the type that can directly assist people in dealing with the quarantine. That doesn't mean you can't still be helpful.
Consider how you can entertain, inspire or educate those whose lives have been seriously curtailed during the COVID-19 pandemic. Acknowledge and honor those essential workers who are providing crucial services. Look beyond the obvious medical personnel and include retail cashiers, garbage collectors and postal workers.
Deliver Vetted Information.
According to Luke Lazarus, when making assertions regarding this crisis, be sure to rely on sources that are credentialed. State the facts without being alarmist or without capitalizing on them in an effort to push your brand. Keeping people informed can go a long way toward helping them maintain some type of equilibrium during this unusual time.
For the majority of brands, their marketing efforts aren't a matter of life and death. However, it's also a reminder that being entertained, informed and valued can help people get through this difficult time without diminishing the seriousness of it. Exuding positivity and hope can only help others as they attempt to navigate their new normal. Building and solidifying these connections now can help elevate your brand's image in the future, too.