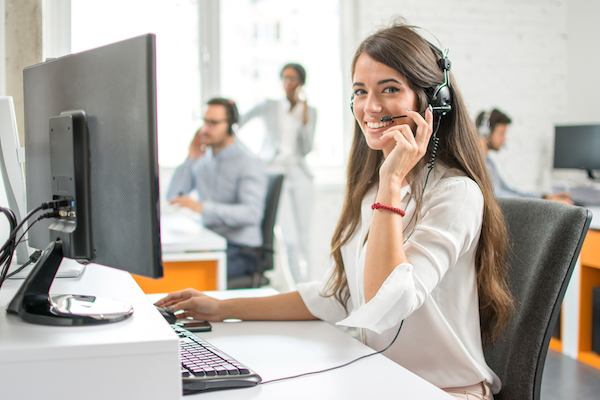 Conference calling services are changing the way teams meet. No longer is sitting in a stuffy room with no A/C for two hours a requirement. Now, you can meet with up to 1,000 people in some cases with web-based conference calling services.
From video chat to 24/7 customer service, these are some of the best features you'll find in conference calling services.
24/7 Support.
When it comes to technology, there's always a chance it will malfunction. Even the most expertly-designed apps and software malfunction from time to time. That's why it's so important to consider a company's support network before you buy their products.
Most conference calling services offer some level of customer support, but some of them take it a step further with 24/7 tech and customer support services. No matter when your problem occurs, the team will look at it and find a solution quickly so you can get back to calling.
HD Audio/Video Calling.
If you've ever used a video calling app that was pixelated and experienced audio quality issues, you understand how frustrating it can be; especially if you're right in the middle of a meeting, special presentation, or chat with an old friend. It's not always your equipment that's the problem (or your internet connection). Some services simply don't adhere to the same quality standards.
When you're hosting a team meeting or one on one call with a friend, you should expect both your audio and video feeds to high-definition. 720-1080p is pretty much the standard for HD video, though some calling services actually offer 4k HD calls! What matters is that your calling app/software can provide crystal-clear audio and a crisp, clear picture.
Some of the best conference calling services in the world include video calling as an extra feature with their monthly premium plans. You can host hundreds of video participants and viewers, so you can cover everything from client meetings to board meetings and even online seminars.
If your provider offers anything less than high-quality HD calling services, it's time to move on. High-definition is the standard of communication in today's world, and anything less than that simply isn't worth your time or money.
High Caller Limits.
Traditional landlines and even mobile phones have their limits when it comes to call participants. You can't exactly host 200 people simultaneously on a landline call! However, with internet-based conference calling services, it's possible to host up to 1,000 people at once! Anyone anywhere in the world with an internet connection can accept the call invite and instantly.
Don't worry about hard limits or having to trim your guest list any longer. Modern conference calling services are built specifically to meet the needs of the modern business, with larger teams in mind.
No Long-Distance/Multi-Caller Fees.
If your business still uses a landline, you're likely drowning in long-distance and multi-caller fees. Usually, more than three people in a  landline call will result in multi-caller or three-way call fees that get added to your bill. Not to mention, if you're hosting toll-free conference calls, you're footing the bill for long-distance charges for your remote team members or clients.
Leave extra fees behind with online conference call services. Being web-based, they provide an accessible platform that anyone can access without the limitations of long-distance and multi-caller fees. As long as your callers have an active internet connection, they can join at any time from anywhere in the world for free.
You won't have to worry about renting out a hall for the next company-wide seminar, either. You can host it entirely online using your conference service's video chat tool. Hundreds of employees can connect at once, so you'll save time and money on planning the event and renting a space to host it.
Mobile Apps.
Nowadays, pretty much everyone uses a mobile phone on a daily basis. From communication to web browsing to social interaction, our mobile phones have become an extension of ourselves; a necessary tool for everyday modern life. That being said, without the mobile apps that occupy our smartphones, they'd be nothing but…well, phones! Luckily, even conference calling services understand the importance of mobile apps, so you can connect via your favorite conference calling service right from your smartphone.
This means that your callers don't have to pay anything extra on their phone bill for long-distance calling via their smartphones, and you'll always be connected no matter where you go. Break the bonds of landline conference calling with an online conference calling service!
Final Thoughts.
Online conference calling services are changing the way we communicate. No longer are businesses confined to the office via a landline. You can now call multiple people from anywhere in the world, host HD video chats, and even send text chats directly in the conference calling software interface. Easy, accessible, and secure: that's the modern conference calling service.