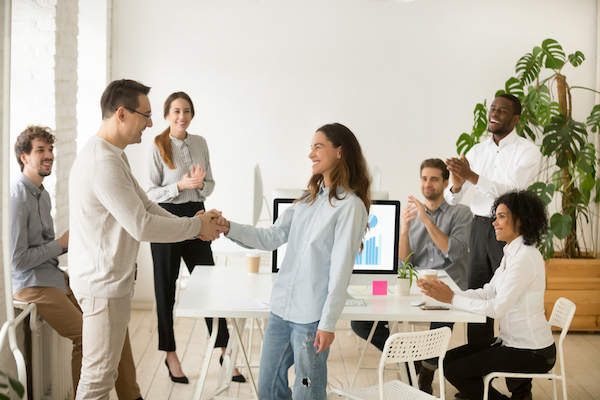 If you thought that the war for talent is slowing down, you're wrong. Even in industries experiencing modest growth, the war for top-notch talent is showing no signs of letting up.
You see, high-potential employees are a crucial part of an organization. They are the innovators and future leaders that organizations need to thrive in a competitive environment.
High-potential employees are not easy to retain. They are ambitious, and their hunger for growth and development frequently makes them feel discontented with their current roles. Identifying and hiring high-potential employees is a priority for HR professionals. Naturally, setting up strategies to retain them should be a priority too.
Here are effective ways to retain high potential employees.
1. Connect them with mentors.
Mentors are incredibly important assets to high-potential employees. They offer advice and guidance and provide examples of how high-potential employees can grow into new roles with time.
Mentored employees are highly likely to remain in an organization for a long time. An employee working with a mentor feels valued and can picture themselves in the organization for years to come.
Build mentoring programs to allow your high-potential employees to shine before they decide to look for better opportunities.
2. Give them new responsibilities and challenges.
A promising talent thrives when taking on new responsibilities and challenges. Putting high-potential employees in charge of other employees, assigning them to special projects or making them leaders of newly formed teams, gives them space to build new skills and grow.
Most organizations are reluctant to trust employees with tasks outside their immediate roles. Unfortunately, the lack of opportunities makes high-potential employees feel stagnant. They may start looking for opportunities elsewhere or become disengaged.
3. Recognize them.
High-potential employees want to feel appreciated for the value they bring to the company. When workers feel neglected and ignored, they start to see their work and effort as unimportant. If you want to retain your promising employees, you have to recognize their talent and skills.
If they feel like they are being treated as disposable assets, they will start looking for other employers who will value their skills and talent.
4. Provide learning opportunities.
Although most employers put a lot of effort to identify promising employees, most do not utilize that information well. Most employers do not inform their most promising employees that they have been categorized as high-potentials. Most of these employees could be actively looking for opportunities elsewhere.
High-potential employees require focused training and development. Incorporate them in a succession pipeline to prepare them for future leadership roles. It not only helps to retain high-value employees but also ensures organizational continuity and eliminates the disruption associated with talent gaps.
Endnote.
Applying strategies to retain high-potential clients is critical for companies of all sizes. Losing a high-potential employee can be very costly:
Cost of hiring a new employee (advertising, screening, and hiring)
Onboarding costs
Lost productivity – It can take up to one year before a new employee becomes as productive as an existing employee.
The above strategies will save your organization all these troubles.