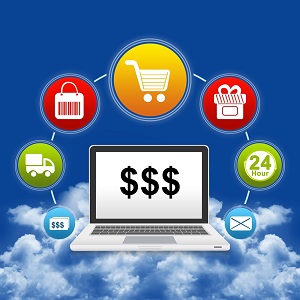 Has your brick and mortar location been temporarily shut down during the coronavirus pandemic? Perhaps your location was deemed non-essential or the costs of keeping your operations open were too expensive to bear? In any event, transitioning your business to an eCommerce platform could be just the solution to keep your dream going despite these uncertain times.
While switching to a digital platform may be an ideal solution for you, keep in mind that it's not as simple as creating a site and opening for business. There are some logistics you want to work out in advance to ensure you can still provide your customers with the quality products and services they're used to.
Here are some suggestions on how to make this transition as smooth as possible.
Decide What You'll Offer.
The first step is deciding what you'll have to offer on your eStore. Create a list of products and/or services that you want to offer your customers online. You may decide to start off with a few of your most popular products and then add more as the eStore becomes more successful.
Choose a Shipping Company (Carrier).
At your brick and mortar location, your customers would simply come into the store, grab the items they want, make a purchase, and take them home. Now that your store is online, you'll have to have a means of getting the merchandise to your customers. This means selecting a carrier. Some of the most common carriers are the United States Postal Service, UPS, FedEx, and Amazon. You'll want to review contract options with each carrier to determine who offers the best rates and service. You can work with a shipping consulting and freight audit service provider to ensure you're negotiating the best deal.
Select a Payment Processor.
In order to accept credit and debit card purchases online, you'll need to select a payment processor. There are several options to choose from including popular options like Paypal, Square, and Stripe. To determine which is best for your eCommerce site, you want to review their payment process, policies and procedures, payment protection and privacy options, and, of course, associated fees.
Find the Best eCommerce Platform.
While you could essentially have your own eCommerce site designed from the ground up, this could cost you a lot more money. For the time being, at least, it may be best for you to look into eCommerce platforms to create your eStore on. Some of the most popular include Shopify, Magento, Wix, and BigCommerce. When deciding which platform is ideal for your business, consider factors like ease of use, mobile supported platforms, SEO capabilities, content management systems, order management systems, product management systems, and customer service.
Design Your eStore.
After finding a suitable eCommerce platform, it's time to set up shop. This essentially means designing your site. While you want it to be aesthetically appealing to attract the attention of your target audience, there are other elements that need to be incorporated. Make sure fonts used are easy to read, graphics are easy on the eyes, navigational buttons are visible, products are easy to find, and the checkout process is simple to complete. Also, be sure that you have clear calls to action as well as several mediums for your customers to reach you including your mailing address, phone number, email address, and social media pages.
Spread the Word.
You've done the bulk of the legwork to get your brick and mortar store up and running on the internet. Now, the final step is letting your target audience know that you're open for business. There are several marketing strategies that can be used to spread the word. Some of the most popular include utilizing social media platforms. Other options include creating an email marketing campaign and purchasing advertisement space on popular websites that your target audience frequents. You can post content, upload photos of new products, create promotional offers, and much more to get people interested in your online shop.
The coronavirus has changed the way many entrepreneurs have to do business. If you happen to be among those who have been negatively impacted by this global pandemic, there are effective solutions to soften the blow. Transitioning to an eCommerce business allows you to continue to get your merchandise to interested parties without skipping a beat. Simply use the steps provided above to ensure that you transition as smoothly as possible.