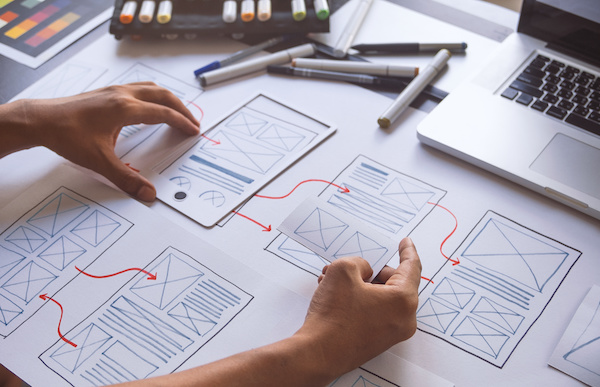 As beginners, it's easy to jump straight into designing a website's interface. However, working offline should be carried out first to generate a good foundation that you can build on. You can use this time to inform your web design, add more structure to simplify your design process, and articulate a clear purpose for the entire design.
Of course, one crucial consideration is user experience. Since your users have varying levels of expertise in website navigation ranging from newbie to proficient, you have to outline key paths and interactions and satisfy wireframes with rough or preliminary web design to iterate it without undue consequences.
This article summarizes the five (5) most common website design mistakes that you should avoid in your own output.
1. Using a Single Web Design Software.
Before getting too excited to create and design a website, it's important to compare software the programs that are available to you so that you can identify one that can give you the best possible results for what you have in mind.
Due to common web design misconceptions, many beginners feel that making professional web designs would take them years. However, using the right combination of web design software programs can help you easily create beautiful pages particularly those that automate most of the entire design process.
However, there's no single tool that can be used to create all web pages. As a web designer, you'll need to be familiar with an array of different software programs to include in your designer toolkit. For instance, here are some of the most commonly used types of web design software available today:
Web design software for building business websites
Web design software for online business or eCommerce
Web design software for graphic designers
Web design software for advertisers and marketers
Web design software for creating HTML sites
2. Disregarding Grids, Guidelines, and Columns.
For some reason, many web designers consider the use of columns, grids, and guides as unnecessary or an indicator of inexperience or lack of confidence. However, consistent and disciplined use of these elements can help in creating professional page layouts and effective visual design. For instance, web content should always have space to breathe so, with very rare exceptions, the use of gutters on all sides is a design must.
Whether you are a confident professional or an experienced beginner, you should make sure that all your website elements are easy on the eyes and create low cognitive demand by being properly aligned, columns vertically segment contents, and content blocks are aligned correctly and positioned for most effective user navigation.
The use of gridlines, guidelines, and column blocks can help you during a design makeover, so you can quickly manipulate columns to provide the right context to the appropriate space, particularly when you must use in-between content.
3. Using Carousels.
While carousels aren't always terrible, they can become a major problem whenever they scroll automatically and become conversion killers.
Carousels can reduce visibility by inducing banner blindness. This is when carousels look like ads that distract and annoy website visitors. These ads can move the attention of users away from the most important things they need to focus on.
4. Unclear Visual Hierarchy.
A common mistake that newbie designers usually commit is not imposing a clear visual hierarchy. Visual hierarchy is a vital aspect of web design principles that guides online users through the entire website and to realize their goals.
Here are some ways to implement visual hierarchy:
Make web elements larger to show degrees of importance. For instance, make some elements more prominent than others to deliberately draw more attention.
Increase the hierarchy's visibility by using white space, negative space, or blank areas on a website. This aids in drawing the attention of the target audience to a particular element according to the website's purpose.
5. Overlooking User Accessibility.
Accessibility is an overlooked aspect of website design. A poorly accessible website is a barrier for customer entry, most particularly those with auditory or visual impairment. Accessibility involves a broad spectrum of considerations. You have to make sure that accessing your website is simple and easy to implement. As early as possible, incorporate an accessibility design plan into a website instead of improving the website later.
For instance, it's easier to fix color contrast, a large blocker for many users, at the onset rather than resolving this issue later on. According to Colour Blind Awareness, there are about 300 million people with Color Vision Deficiency. To ensure that the colors on your webpage are visible to the largest possible audience population of web visitors, you must always conduct a color contrast test on your website design.
6. Using a Complicated Font Family.
Hand-drawn scripts, cursive fonts, and unusual symbols can be difficult to read. Fonts that are difficult to read or are unreadable can decrease cognitive fluency. They can decrease the ease of website use. To ensure a clear understanding of your webpage content, use clear fonts.
Here are the recommended fonts for websites:
Arial: This sans-serif font is a standard website font on Windows devices.
Roboto: This sans-serif typeface as a standard system font for Android devices.
Times New Roman: This "new" version of the old Times font is one of the most popular fonts on Windows devices.
Other Fonts Used on Websites: Courier New, Courier, Verdana, and Georgia
Note: Avoid using too many fonts on one page. Changing fonts too often can break the focus of your visitors.
End Notes.
The most common mistakes in website design include: using a single software, using unclear font, unclear visual hierarchy, and overlooking columns, guides, and grids. Avoid these mistakes so that you create pleasing and easy-to-use websites that clients and users will love.