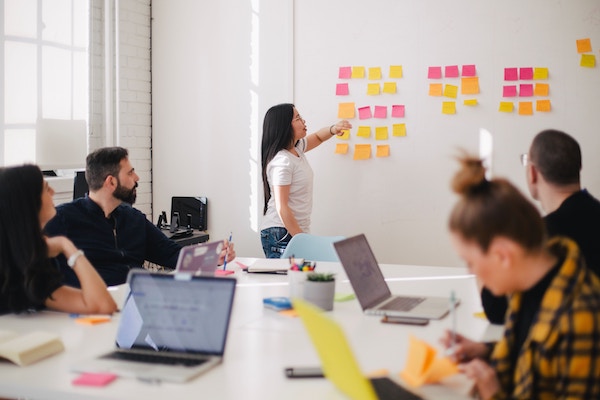 A new business will require a strong foundation to ensure future success. From your website and business plan to your online marketing efforts, it's advisable to have many of these business elements in place early on.
If you're thinking about starting a business or have recently jumped into the world of entrepreneurship, check out these ways from members of the online small business community to get your business up and running.
Build A Startup Business Plan.
Creating a business plan should be one of the first steps for any new startup. A business plan will give you a roadmap to follow as you develop your business. There are several steps you need to go through when creating a road map for your business to follow.
Start with a description of your business Then have a specific plan around your goods or services. Produce a detailed marketing plan of how you will promote your business. The final but important part of the plan will be the financials of your business. This includes a profit and loss account and outline balance sheet. 
Creating a Business Website.
When you're just starting with a new business venture, you might not have a lot of money or resources to build your website. There are currently many companies offering to make your website some for free! You need to have an online presence. Luckily, there are some simple steps you can take to create a trustworthy site for your brand. The essential of any new business is building a reliable brand name, identifying logo, and identity from day one.
Connecting with Your Target Market Online.
Once you have built your website and perhaps some social media accounts, you need to find ways actually to make connections with potential customers. There are some great resources online to help you (Beginners Guide to Social Media) You need a method or methods to send relevant and captivating messages, as well as targeted information to your customers at critical points when vital for your business. 
When using social media for your business, your focus should be on creating a strong sense of community among your target customers. Build your reputation and brand into a trustworthy and professional company. 
Prioritize Relationship Marketing.
In fact, the relationships you form with your customers, whether online or otherwise, can help you build a business that's sustainable over time.
If you want to create a pool of returning customers, being part of a social media community means the consumer has given their own personal data to be shared and used. This means you could be successfully targeting your business on all of these social media sites if you know how to utilize them properly…
Make sure your UX is future proof.
The experience that you create for your customers online can make a significant impact on your success. UX testing can help you ensure that you provide a positive experience. But it's also a good idea to look ahead to the future.
Focus for Exponential Growth.
New businesses have plenty of opportunities for growth early on. However, you need to know the right things to focus on at the right time. You need to ensure that your efforts are targeted toward high impact activities. If you want to go into business, you first need to build your knowledge base. It can help to gain insights and inspiration from industry leaders and to gain knowledge from other experts via Ted Talks and other business and social mediums which you can do work for you.
Email marketing is another essential element of any online marketing plan. But if you want your messages to make an impact, you need people to open them; therefore, you need to ensure you know how to boost your newsletter open rate.
Create an effective Content Strategy.
Content marketing should be a regular part of any company's marketing plan. However, some companies forget to keep their customers in mind when they create that content.
By choosing the right channels to figure out, your content strategy will help you move your business in the right direction as it will help you get your business connected to the millions of potential customers out there – people who are likely to be interested in what you have to offer and say.
Use a Transcription Service.
Lots of business (video and audio, academic, legal) require transcription services for their office dictation needs. Many companies look to Transcript Divas, one of the most reputable companies around. Outsourcing to a trusted outfit will save you time and money.
Some of the major benefits of using a transcription service for your business are that you don't have to employ someone with all the costs that involves. You don't have the cost of equipment and you can be sure that the quality of work is high and consistent.