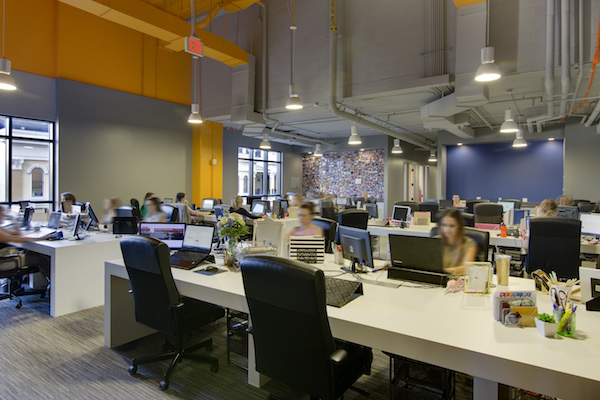 Cubicles are coming to an end. Businesses are finding that well-designed workplaces boost employee productivity.
The modern workplace is something that new generations of employees want. They want something that will not only spark productivity but will also be enjoyable to work at.
When you hire employees who love your workplace, it affects the hiring process and creates a positive culture. People want to go to work instead of working from home.
But what makes for excellent employee space or an excellent workplace?
There are a lot of answers. Here's a short guide on what can help you get started on creating a positive working culture and workspace.
Create a Healthy Work Environment.
A healthy work environment is a place employees feel healthy because of the natural qualities of the workplace.
For instance, you should focus on air quality and other conditions in the workplace. You can ensure there's no smoking in the workplace.
One of the ways you can create a healthier employee space is by adding plants and adding the top air filtration systems in your workplace.
Another consideration is to add items that promote a healthy lifestyle. You can add a water cooler that encourages hydration.
In addition to water, you also add healthy snacks for employees. You can add the availability of fruits and vegetables for employees. You can also encourage hand washing and have hand sanitizer available for employees.
You can start finding the best work stations by looking at serviced offices near me.
Create a Relaxing Work Environment.
A relaxing environment is one where the employees can exercise and relax their body and mind.
You might consider having a yoga class one or two days a week that gives employees a chance to clear their minds. You can also have a workout station that encourages fitness.
Having bicycles available also encourages employees to go on bike rides during a break.
Along with exercise, you should also give employees a comfortable work station. That means ergonomic workspaces, different work areas that allow employees to room to another room.
You can also have creative brainstorming areas and informal meeting areas that make work more relaxing instead of it feeling very formal.
Overall, when you create a relaxing and healthy work environment, your employees feel more comfortable, which only helps your business thrive.
Create a Welcoming Employee Space.
When your business creates healthy employee space, designed around productivity and making employees happy, your business will do better. Employees will be happier to be at work, and they will be more inclined to stay longer at work.
The modern workspace is always changing, especially with future generations of employees desiring a workplace they can thrive in. If you want your business to prosper, it's your job to create an environment in which your employees can be productive.