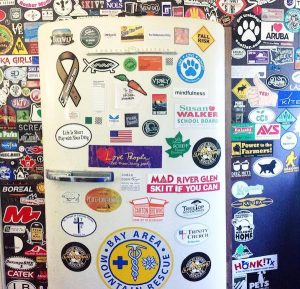 Vinyl stickers are one of the most practical and reliable marketing tools for any business. You can gain substantial returns by efficiently utilizing this tool for brand awareness.
There are a variety of stickers available in the market, like die-cut, bumper, euro oval, and hang tags. But, using custom vinyl stickers will help suit your requirements and promote your brand better.
However, you need to identify the purpose of using these stickers. Here are some of the critical factors that make using customized vinyl stickers beneficial for your marketing collateral.
Unique Advertising Tool.
Stickers, if properly placed and of the right material, create a distinctive brand impression. Proper positioning of the labels is essential. You can consult a sticker printer for the best suitable suggestions. For instance, if you are advertising any fundraiser event, stickers on products play a vital role in branding.
Further, you can use the online design tools to customize the stickers, exclusively for a particular product or service.
Consistent Promotions.
This advertising tool existed long before the prevalent social media and is one of the fundamental branding collaterals. It continues to be a low-cost alternative for sufficient exposure.
You can use these customized stickers to communicate with specific target customers, creating a long-term relationship with them. The vinyl stickers are durable and come with an extended lifetime.
Affordable.
You may own a business involving mass productions of products. It means you would need to place a bulk order for stickers. The good news is you can avail of a considerable discount on such orders. Further, if you are a repeat customer, the sticker company will offer you exclusive discounts, thus saving your capital.
Also, the custom vinyl stickers are affordable, as you would give your inputs and requirements to the concerned team. The sticker company can then go ahead with bulk printing, making it cost-effective for them as well. On the other hand, a single piece order is also economical, owing to the advancements in the sticker production mechanism.
Brings Flexibility.
You can use your creativity and design stickers best fitting the branding purpose. There are options in terms of various sizes, shapes, and colors. You can choose different contours around the logos for your customized stickers. It gives them a personal touch.
Stickers instigate versatility, with options like shiny backing. You can use this reliable marketing tool as a product label, bumper sticker, or even for attractive decoration.
Easy to Integrate into Marketing Campaign.
Vinyl stickers are typically easy to integrate with other marketing tools. For example, your business is a part of an exhibition. You are giving away brochures, bags, catalogs, and gift artifacts to the visiting customers. In such scenarios, customized stickers go well with all the giveaways mentioned above, contributing to product marketing.
You also have the liberty to include this powerful branding tool at any point in your marketing campaign. You can have stickers with your business slogans, themes, and product logos. These can smoothly suit the branding if thematically designed with the trending marketing concept.
To summarize, customized vinyl stickers can effectively popularize your products and brands. They are a proven form of profitable marketing tool.