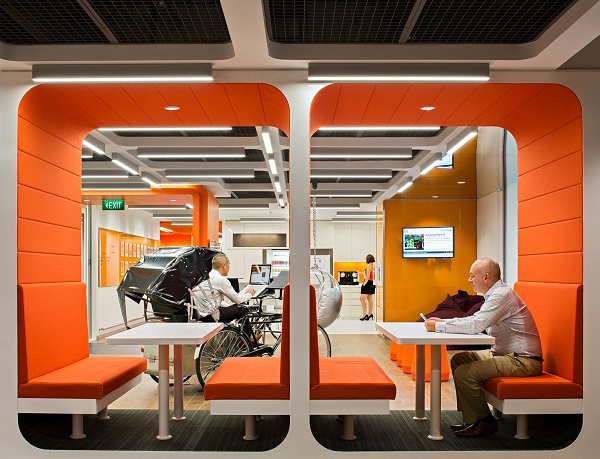 by Graham Beck, founder of DropDesk Coworking
In recent years, the co-working landscape has dramatically shifted, especially in major cities like New York and Boston, where the tech industry's demand for these spaces is high. The expansion of big-name brands and the steady increase of new companies setting up shop is good news for the thousands of entrepreneurs that are traveling in and out of these hubs or looking for a spot to temporarily settle in as a start-up. However, it creates a competitive challenge for those that are new to the scene.
The nature of the co-working business model lends itself to a level of instability, with options like hot desks or monthly fees for space that require no contract being common practice. In addition to this, the plethora of co-working companies popping up has provided the user with too many options, resulting in just over half of these inhabitants looking for a new home every few years.
So, how do you not only lower your barrier to entry but combat the seemingly inevitable churn of the co-working industry? How do you compete with the best co-working spaces in New York? How do you put a stop to the 'paradox of choice' and fight the FOMO (fear of missing out) that plagues your average co-working consumer?
You ask an expert (or seven).
This round-up of actionable tips from some of the most successful companies operating today will help set your co-working space up for success.
1. "Let the other spaces fight it out over flash and focus on substance" – The Commonwealth
Taking on the competition in this industry has come to mean 'one-upping' the latest and greatest space, offering better bells and whistles than the last co-working company to emerge. These eye-pleasing perks might attract new members, but the most important thing you can offer a hard-working entrepreneur is a space to focus and be as productive as possible.
2. "A co-working space that tries to foster a supportive environment filled with camaraderie has a much higher chance of succeeding" – Welsh ICE
According to Welsh ICE in South Wales, a successful co-working space is community-focused. Any space can establish a sense of camaraderie. For example, taking the time to acknowledge accomplishments and announce big news or breakthroughs by your members will work wonders.
3. "A co-working space needs a community manager who is more than just a people person" – Raj Vardhman
With over a decade of experience working with and in various co-working spaces, GoRemotely co-founder Raj Vardhman has learned that while there are several things a co-working space needs to be truly successful, having a skilled community manager is essential.
A friendly face is certainly important, but this role entails being more than being a people person. Assessing the needs of members and using this information as an opportunity to continually improve the space and delight users will go a long way. The critical skill to hire for is the ability to act as an intermediary between the co-working company and its members while maintaining a well-oiled machine.
4. "It is important to equip a co-working space with printers, scanners, chargers, but also coffee, dishes, and snacks" – Igor Mitic
The co-founder of Fortunly and a veteran owner of co-working spaces, Igor Mitic, has come to realize that the type of amenities offered is an especially important part of operating a successful co-working space.
Simply put, a convenient and functional environment will always be a key selling point to clientele and will ultimately incite longevity and loyalty with your customer base.
5. "In addition to having world-class amenities and a great location, a successful co-working space needs a supportive community" – Modworks Coworking
Modworks Coworking in Denver also recognizes the importance of creating an environment that encourages communication between members. With frequent interaction comes a sense of community, which is crucial to the growth of a co-working business.
6. "A co-working space has to understand the diversity of its users and what each group needs" – Stacey Guilianti
With more than two years of frequenting various co-working hot spots, Stacey Guilianti has seen first-hand what it takes to effectively operate a space and provide an atmosphere and members are happy with. A critical component to this is understanding who your members are – by paying close attention to the diversity of your users and the unique needs of each group, you'll be able to tailor your offerings and ensure client satisfaction.
As an up-and-coming co-working company, be careful not to make assumptions about your target market as they can result in missed opportunities. If you do your research, you might discover that while your ideal demographic is the millennial, a significant number of people that use these spaces fall into a different age range and have different preferences you can cater to.
7. "Something all successful co-working spaces have in common is a great location" – Stacy Caprio
According to Stacy Caprio, a great location is a must-have for any successful co-working space. It's wise to avoid areas that are hard to access via public transportation or that lack local niceties like eateries, coffee shops, or gyms for health-conscious members.
On the other hand, it might be a risky move to open a space right downtown if heavy traffic and a painful parking situation are known to the neighborhood. The trick is to find a happy medium with ample parking, access to public transit, and complementary businesses nearby.
By following these seven helpful tips, you will be able to build a co-working company that out-smarts the competition and provides the perfect solution for a diverse community of members that are more likely to settle into the space you've taken great care to create for them.
Graham Beck is the founder of DropDesk Coworking, a platform that helps remote workers find workspace or hosts create their own coworking spaces. Graham has over 6 years of experience in the coworking industry and has personally owned, managed, and created profitable spaces. Aside from coworking, Graham has been running a digital agency for 10 years, successfully building his own brand to 50 million users.