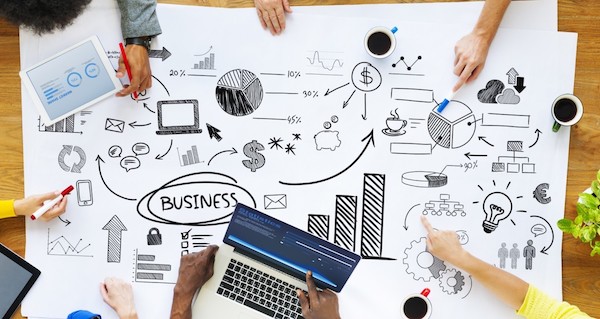 Even if it's successful, you know in the back of your mind there are ways to improve your business. Are projects not finishing as swiftly as expected? Maybe stock levels are too high and they're causing unnecessary expenses? Or perhaps the productivity of your employees has dropped off?
Whatever the case, no business is perfect and issues will arise. Thankfully, there are methods available to counteract any potential problems.
With this in mind, if you are wondering how to further improve the profit levels and efficiency of your company, here are five tips to consider.
1. Review employee productivity.
To begin, you should take a closer look at your employees. By evaluating the productivity of your workforce, you will gain a greater insight into what changes – if any – are required to refine efficiency levels.
When evaluating, it's also important to let your employees have a voice about your current business practices. Have they spotted a process that could be improved upon? After all, they will be more familiar than you are with certain tasks, and they will have a more informed opinion on them as a result.
2. Improve your inventory management.
Refining the way you store and shift your stock can make a big difference to efficiency levels. There are several ways to improve your inventory management, and the foundation for this is by implementing specialist software like Erin Technology.
You can use inventory management software to automate processes. As for the processes covered, this includes everything from calculating the reorder point formula to optimize the way products are shipped.
By doing this, you are saving bundles of time – and, by extension, resources and money.
3. Gain feedback from customers.
Customer comments are an excellent way to receive honest feedback about your business. If you have an easily accessible contact page or encourage reviews, you will be able to gain a healthy amount of external observations. Also don't ignore social media comments when they're sent your way.
If customer satisfaction fails to reach the heights you desire, analyze what they're saying is wrong about your business and act upon it.
4. Outsource tasks.
Strategic outsourcing can be of serious benefit to your business. For instance, instead of letting your employees deal with the company's promotional efforts, this could be handled by a digital marketing agency. Not only does this free up your employees to handle other tasks that need completing, you should also receive exceptional marketing service due to the agency's expertise.
5. Streamline communication.
If not optimized, communication between your employees and clients can cause your business to slow down.
To streamline communication between employees, encourage them to chat face-to-face. The likes of email and Skype certainly work when it comes to quick questions, but face-to-face interactions seriously ramp up the speed of solving more complex issues.
As for clients, see if it is possible to chat via video call as opposed to going out of your way to visit them. Due to not needing to travel, this will save both time and money.