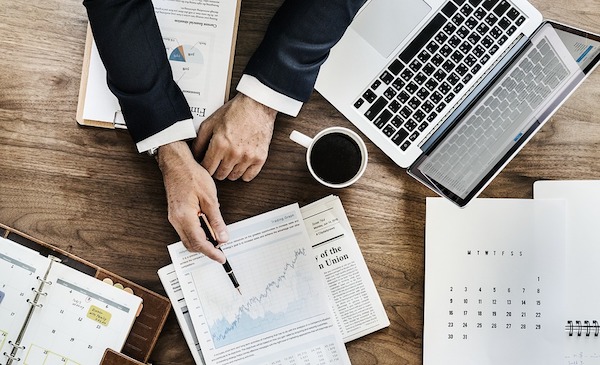 by Tiffany Ruder
"Digital transformation" was a buzzword throughout 2019, but 2020 is when we're going to see its real impact. As the amount of time that we all spend online continues to increase, digital transformation has become crucial for sales growth into the next decade.
First of all, you need to understand what digital transformation is. It's more than simply using a computer. It means integrating digital technology into every aspect of business, including sales channels.
Just like the industrial revolution transformed everything about the way that people lived, from the way that they made their clothes to when they ate their meals, the digital revolution affects everything about how we live and do business. We order food differently, hail cabs differently, and buy from suppliers differently too. Businesses need to go through a digital transformation if they want to keep up with our digitized personal and professional lives.
Online sales have been steadily rising over the last few years. According to one estimate, retail eCommerce sales will top $700 million by 2023, rising by 60% since 2017.
The massive success of corporations like Amazon, eBay, Wish, and more shows that shopaholics have gone digital. But digital transformation goes beyond making an online sale. It's about using all the digital tools at your disposal, crossing every channel in order to maximize sales growth. Here's why digital transformation is so important for sustainable sales in 2020.
Digital widened the market.
With the rise of the internet, shoppers have a much bigger choice of stores where they can spend their money.
They don't have to buy shoes at the local shoe store, for example, just because there's nowhere else close by; they can order shoes from hundreds of online shoe stores, all of which deliver within two days.
That means that your competition has grown. Your business needs digital transformation in order to keep up with the pack.
Sales have gone social.
Social media is where we live our lives – including our shopping lives. Consumers turn to social media to ask for recommendations for brands, stores, and shopping sites. Twitter, Instagram, Facebook, and Pinterest aren't just for keeping up with friends anymore – they are your customers' first stop for research into your brand and products.
Consumers look for a strong brand presence and consistent brand messaging before they decide where to shop. They want to see positive reviews, check that you listen to your customers online, and investigate whether you're quick to respond to their questions or complaints.
Instagram shoppable posts and Pinterest product pins have turned social media into bona fide, standalone sales channels that can have a massive impact on your bottom line. Digital transformation gives you the key to leverage social media for more sales.
Customers shop omnichannel.
No one sticks to just one channel anymore. Customers swoop from desktop to smartphone and tablet to smartwatch without batting an eyelid. Your buyers are used to cross-channel shopping experiences like ordering online and picking up in-store or buying online and returning in-store.
Customers increasingly do their research online, checking out review sites before choosing a restaurant for dinner, and comparing prices on different marketplaces before they make a purchase.
Sometimes, they'll research and buy an item on their phones while physically standing in a competitor's store. Other times, they'll do their research in a brick and mortar store, but place their order online.
Your business needs digital transformation in order to keep track of all these sales channels and stay in control of the ways that they interact and impact each other. It's digital transformation that helps you make sure that your prices, stock levels, product descriptions, special offers, and more are consistent across every channel.
Instant gratification is a given.
Amazon raised the stakes back in 2005 when they offered two-day free shipping on eligible purchases. In 2019, Amazon raised the bar even higher to one-day delivery. There are even startups that are working on using drones to achieve one-hour delivery in some cities. All of this points to a single trend: customers want their goods as fast as possible, if not faster.
The instant gratification generation goes beyond fast shipping times to instant responsiveness. Consumers demand a responsive digital sales channel that delivers immediate answers to all of their pre- (and post-) purchase questions. Sometimes they aren't even willing to read the product description; they want to ask a quick question instead. If you take too long to reply to a customer inquiry about price, color, size, or any other of countless details, you'll lose a sale.
You need to digitally transform your sales processes if you want to meet these expectations. If you don't have the right tools and workflows to fulfill customer demands, you'll see impatient would-be shoppers flocking elsewhere.
If it can't be measured, it can't be managed.
If you think about your marketing and sales funnels, you'll realize that the vast majority of them are already digital. Your paid ads, organic search results, blog posts, and all the content that you share to nurture leads – all of that interaction happens online.
But it's not enough to have a brand website or Instagram profile. You need digital transformation to link and track all of these online interactions. Without the right tools, you can't manage or measure the success of your marketing and sales campaigns.
Digital transformation reveals which keywords are the most effective, which content is the most successful, and which platforms are the most impactful for driving sales in 2020.
In 2020, sales depend on digital transformation.
In 2020, digital transformation isn't optional anymore. If you want to sustain high sales volume, you need to digitally transform your business. Social shopping, omnichannel purchases, instant gratification, the ever-more crowded market, and the need to fully monitor your sales and marketing metrics all demand a full-body digital makeover for your business.
Don't panic – digital transformation might sound worrying, but you're likely already part way there, and it's the gateway to good things for your business.
Tiffany Ruder is a full-stack marketer who specializes in creating customer-centric messaging and digital experiences that span channels and touchpoints. All about optimizing the customer experience as the ultimate conversion booster, she's based in Boulder, CO, but her clients are based all around the world. You can reach her via Twitter.