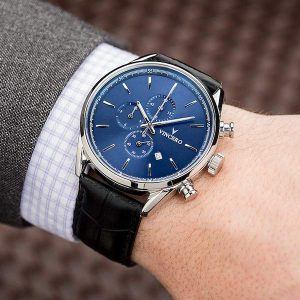 The trend has changed especially in the "luxury world". With consumers' desire to experience rising luxury, watch and jewelry rental services are increasingly promising. A report just released showed that consumption of goods that can provide luxury experiences, such as cars, helicopters, jewelry and watches, has been growing at a rate of 15% per year.
This increase is justified by the emergence of new online platforms that broadened this desire for luxury objects, such as watches and jewelry, for those seeking to gain status in specific events such as parties and weddings. We can find luxury brands like Patek Philippe, Rolex, Breitling, Tag Heuer, Vuitton, Prada and many more. They are classified as jewelry.
How the market operates.
To get an idea of ​​how this market operates, a London jewelry store, Glitzbox, offers an online jewelry rental service for a one-month subscription fee of £50 (which decreases to £43 for an annual subscription). Its 26-year-old founder Tamsin Ivy, who created the company with its savings, cites her generation's fear of joining a jewelry store as one of the reasons behind its creation. She also challenges the notion that the only way to enjoy jewelry is to buy it: "I find it strange that everything you wear has to have forever." Although Ivy initially targeted the demographic profile of Instagram, she soon realized that her most loyal clients were professional women in their 30s who "lead busy lives and don't want to waste time looking for jewelry."
Jewelry rental services break down other barriers that come with price tags, such as capital and knowledge. These are particularly significant for watch enthusiasts. Realizing that there was no way for buyers to test a piece before spending large sums of money, Roy Tong co-founded Acquired Time, a Singapore-based monthly subscription service that provides luxury watches. Founded in 2017, the company lends its customers a luxury watch per month, costing $ 73 to $ 375 per month with a minimum subscription of six months. This allows a customer to hire a Rolex for only $ 7 a day.
"Think of time purchased as an extension of the collection itself," says Tong, whose company controls its customers and charges a deposit before granting access and holds customers accountable for damage or loss. Customers can also buy watches through the site, while collectors can assign their watches and make money from them.
Bentley & Skinner has rented jewelry for men and women in all price ranges "from a few thousand pounds to several thousand pounds, with an average of 50,000 to 60,000 pounds [per piece]," says Omar Vaja, director of sales. The London-based jewelry service provider began offering rental items about 20 years ago in response to customers saying, "I like it, but I don't want to buy it," explains Vaja. He adds: "Buying is expensive, and there are also insurance costs to take into account while when you hire, you pay your fee and get free."