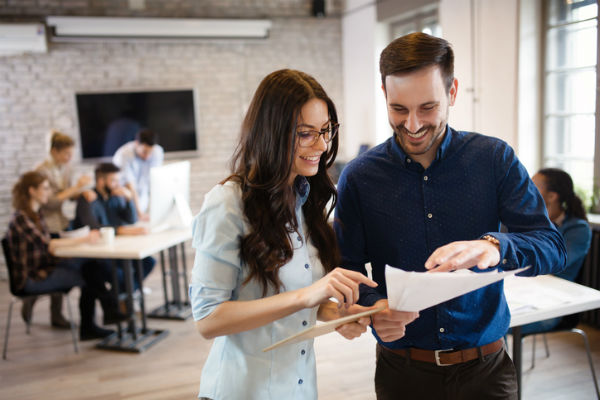 If you're struggling to motivate your workers quite as strongly as you would like, don't feel too disheartened. It's an unfortunate fact of life that many of us work simply to make ends meet rather than due to our love of the job – and workforces are becoming harder to satisfy as they diversify.
Still, as HR News reports that boosting workers' happiness can also increase their productivity by roughly 12%, you have a strong incentive to dangle the following carrots in front of their faces.
Flexible working.
Otherwise known as agile working, this model, in the words of IT PRO, "enables employees to work when, where and how they want, as long as it meets the requirements of their job and the business". You could let staff hot desk within the office or work outside it, such as from home.
In a YouGov survey in 2017, 89% of British employees claimed that flexible working spurred them to operate more productively – and agile working can save you costs on office space and utilities, too.
Age-specific benefits.
As the global workforce becomes increasingly mixed, it's no wonder that the old one-size-fits-all approach to employee benefits no longer suffices in many instances. You should carefully consider what an employee might especially value at their particular stage of life.
So, while middle-aged managers could prefer life insurance, younger employees could be drawn towards retail discounts instead; click here to see examples of retail brands offering such savings.
Voluntary, employee-paid benefits.
Another approach to ensuring the sufficient flexibility of workplace benefits, this is where you can take a certain amount of payment from the employee's wage to fund benefits which that worker is free to pick for themselves. You could find these benefits especially appealing to millennials…
Millennials are expected to make up half of the world's workforce by next year, says Real Business – and they deem compensation and benefits the biggest reason to take up a new job.
Wellness schemes.
It's no accident that you've probably spotted the occasional employee wearing an Apple Watch or relaxing in beautiful rural scenery during the lunch break. Wellness is a big deal to employees in this day and age, so you can help by fostering a work environment especially conducive to wellness.
You could do this through, for example, letting employees access onsite health screenings during work hours – or, for older workers relatively susceptible to particular illnesses, even offering such screenings for free. Their younger cohorts, meanwhile, might appreciate access to wellness gurus.
Training opportunities.
When an employee – especially a young one – joins your company, they are probably eagerly anticipating ascending the career ladder over time. After all, promotions can come with higher pay and more benefits. Therefore, you could consider offering onsite training tailored to each worker.
Such training could help incentivise people to stay with your company. Did you know that, at Marriott Hotels, one company offering training for its staff, about 10,600 employees have remained for over two decades?