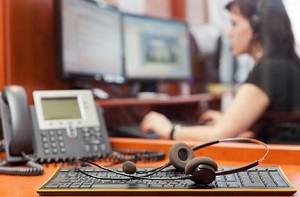 Investing a lot of your time is normal when you own a business, but that doesn't mean you should be spending your time on minuscule tasks. Unfortunately, you have to spend a lot of time answering the phones if you want to make sure you're engaging with customers and keeping them coming back to your business. Live answering services can help cut back on a lot of that time spent, but they're also an investment.
If you're wondering whether or not your business needs an answering service, here are some things you should consider first.
Call Volume.
The first thing you need to consider if you're thinking about whether or not you need an answering service is how many calls you're getting each day. There are some types of businesses that simply don't need to use the phone as much, and in that case, it wouldn't make nearly as much sense to invest in a live answering service.
However, most businesses have quite a few calls to take, and if that's the case for your business it would be a good idea to invest in live answering. These services can make sure that none of these calls are missed, which can be an especially important feature to have during off-business hours. Many small to medium-sized businesses will only answer the phone during business hours, so you can be ahead of the curve when you hire a 24/7 answering service.
Daily Operations.
Another thing you have to consider when you're deciding if you need an answering service or not is what you do on a daily basis. Maybe you don't have a whole lot of things to do when you're not on the phones, or maybe answering the phone doesn't take you away from what you're doing to the extent that you have to drop everything.
Whatever the case is, one of the biggest reasons to hire an answering service is to open up a little more time in your day. There's no reason you should spend valuable hours answering the phones when you could be working to expand your business. As a matter of fact, when you consider what it costs to hire answering services versus the amount of money you lose your business by talking on the phone instead of working, it's often worth hiring an answering service for that reason alone.
Complexity.
The last thing you'll want to think about before you hire an answering service for your business is whether or not an answering service would actually work for your business. Perhaps you need to be in direct contact with your customers to provide them with the most up-to-date information they're looking for, or maybe the questions your customers are asking are too complex for somebody who's not an industry professional to answer. Whatever the case may be, answering services aren't always the best answer.
Fortunately for you, you don't have to worry nearly as much about the complexity of your business when it comes to hiring a good answering service. You can find answering services that are tailored to your specific industry and to meet your specific needs, which means you can count on them to take good care of your customers and answer any questions they may have.
Finding time to take care of important tasks can be tough when you own a business, especially if you're answering phone calls all day. The good news is, delegating some of those tasks to others can save you time so you can focus on your business. If you think an answering service is right for your business, there's no better time than now to make the investment.