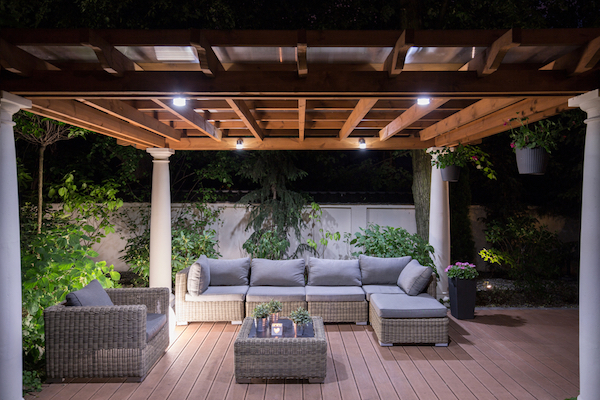 Running a bricks and mortar business has its fair share of benefits and challenges, however it's a great way to take advantage of busy foot traffic in high street and industrial locations. While creating a comfortable indoor environment is all about the types of furniture and colour schemes you use, creating a comfortable outdoor area for people to sit with clients over a drink or catch up over coffee requires a bit more thought to entice your customers.
To make planning your outdoor area easier, we've put together the following guide that details areas that can sometimes be overlooked until the last minute and ensure your outdoor area offers everything your customers could need:
Protection from the Elements.
Protecting your customers from the elements involves more than popping out a couple of temporary umbrellas. You'll want to ensure your customers can enjoy your outdoor area regardless of the rain or sun and have a place to get out of a downpour or the intense heat. If your business is very seasonal, invest in some hardy parasols or rain shelters that can be easily stored away when out of use, otherwise if you run a business that attracts the same number of customers all year round, consider investing in a free standing pavilion or retractable roof shelter. Where space allows, you'll want to provide areas that smokers and non-smokers can use separately, ensuring you keep every type of customer happy.
With the winter months drawing in, you'll want to ensure you can still get the most out of your outdoor areas. Consider adding additional heating, this can be as simple as a free-standing gas heater or an energy efficient, wall-mounted electric heater.
Long-Lasting Furniture.
Choosing the right furniture for your outdoor area is important, cushions and pillows are great and offer additional comfort but need to be water resistant and easy to wash to prevent damp and mould growth. You'll also want to choose materials that offer increased durability against the weather, as well as heavy use. In particular, chairs are commonly moved around and dragged along the floor. Cheap chairs will regularly need to be replaced due to broken parts so invest in quality seats that can handle rough movement and save yourself money in the long run.
Immovable outdoor furniture such as fixed and modular booth seating and all-in-one bench tables are some of the most durable available but can be difficult and awkward to move around so it's important to weigh up the pros and cons of using fixed or heavy outdoor furniture in dedicated areas.
Pretty It Up!
People prefer to sit in areas that are aesthetically pleasing so rather than keep your outdoor area as a boring, undecorated courtyard, look at decorating your space with plant pots, uplighters or even decorative features such as a water feature, statue or safe, ornamental fire. Plants don't have to be real, needing to be regularly replaced and watered but can be cost-effective fakes. With a fantastic, quality range of fake plants now available that look close enough to the real thing that your customers might never notice!
Making use of decorative features outdoors is important, especially if your outdoor area is the first thing potential customers see when they arrive at your business as you want to ensure you have a fantastic first impression that leaves guests intrigued and wanting to learn more.
Keep It Tidy.
When adding an outdoor space to your business, it can be easy to neglect the space, leading to collected leaf litter, cigarette butts and an overabundance of unsightly cobwebs. Make sure to add cleaning your outdoor areas to the weekly schedule, as keeping on top of it regularly will ensure your space always looks its best and will ensure the longevity of your outdoor furniture and equipment.
With these tips in mind, start planning to add more space to your business today! Or if you are looking for a new business location, consider choosing a property that provides additional outdoor space that you can make use of for your customers.