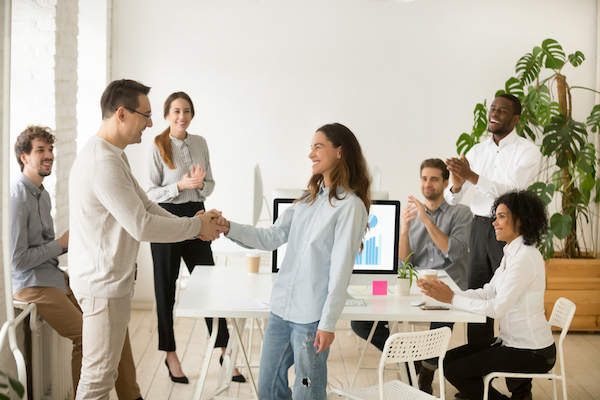 One thing that all businesses, large or small, have in common is employees. Team members are the people who power the business; the individuals performing the day-to-day tasks that help to keep the business running smoothly.
However, when a new employee joins the team, those first few days (or weeks) can be a challenge. Not only will the new starter need to get to grips with their new role and workload, but they will also need to learn your business' systems and processes, alongside establishing connections with their new colleagues.
Joining a company or starting a different job can understandably be daunting, which is why you should do what you can to help new team members settle in and find their comfort zone as quickly as possible.
Introductions.
Depending on the size of the business and the number of employees you have, it may not be practical to introduce a new employee to everyone at once. On the other hand, if you are a small, close-knit team, this can be a great way to help a new starter feel welcomed and included right from the very first day.
First Impressions.
First impressions do matter, and they also work both ways. The way that a new starter acts, behaves, and even dresses, can speak volumes about their character and if they appear disinterested, this could be a warning sign about their long-term future with the business. On the flip side, a new starter arriving to find disorganisation, a lack of motivation, or a subpar office or working environment could feel their talents would be better employed elsewhere. Try to combat this by considering things from both parties' points of view, in order to ensure there are no unwelcome surprises for anyone!
Team Building.
Team building is a classic, well-used way to help new starters get to know their colleagues a little better – often outside of the workplace environment. Ice breaker ideas and fun games can be a good introduction to the team without the pressures of more involved team building activities – and they needn't involve taking an entire day out or even leaving the office!
Environment.
A warm and welcoming environment is a must when it comes to helping new starters feel as though they are part of the team. It's important to make sure that you are prepared for their arrival – this means no last-minute running around trying to organise where they will be sitting! It's good practice to make sure everything is ready the day before they are due to start, as this will make things much easier and more professional when they arrive the following morning. Set up their desk, make sure their PC, phone, and any specialist equipment are working, and if necessary, create their company email and any online accounts in advance. When things go smoothly, they're sure to thank you!
Consider preparing a welcome package for the new hire as well. Other than the job essentials, such as the employee handbook and various forms, swag items and welcome gifts will work wonders in making them feel comfortable and excited for their new role and team. The welcome gift should be related to the job or the industry you're in. For example, funny graphic tees work as perfect welcome gifts for web designers, a T-shirt printing business, and the like. This way, new hires know that the company put a lot of thought into assembling their welcome packages.
Support.
In order to help your new employee feel welcome and ensure that they know what they are doing, it's important to ensure they have a support network in place – just in case. Some businesses adopt a buddy system for new starters, others assign newbies a mentor, while others will organise a full induction for new members of staff. No matter how you choose to go about it, it's essential that every member of staff knows who to go to if they have any queries or concerns.
By following these top tips, you should hopefully be encouraging your new team members to bond with their colleagues and integrate into the workplace environment as quickly and effortlessly as possible.
Comfortable, happy employees mean a more positive, productive workplace – helping you to meet targets much more easily and contributing to the overall success of the business. As a result, it's important to make sure your employees are on side as soon as possible; the initial effort you invest is sure to pay off in the long run!