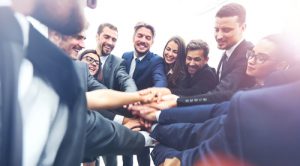 When you're looking for a new job with a different company, you may feel like you're constantly auditioning for a role. While it's important to make a good impression on a potential future employer, you also have to make sure the business is the right place for you and your career goals. You should evaluate the company's corporate culture before accepting a job offer.
Here are some ways you can see if it's the right fit for you.
Learn About Their Reputation in the Industry.
One place to start with a company's corporate culture is its reputation in the industry. There are some measuring tools around that evaluate a company's reputation using a formal process. You can check out the reports from these tools for specific details. You can also start attending industry events and ask other firms about the company in question to gauge their reputation in a less formal way.
Review Benefits Packages.
Before determining if an employer is right for you, you should also review any type of benefits packages you're offered or sponsored by the company. Look for generous benefits packages that give employees full medical and dental coverage. Additionally, make sure the company offers some sort of retirement benefit plan. A solid benefits package shows the company values its employees.
Find Out About Perks.
Company perks are also beneficial for making a corporate culture more enjoyable. Find out if the company provides any cool perks, such as a free gym, discounted childcare, convenient parking, or travel discounts. Other perks, such as flexible hours and lots of vacation days, can help you balance your work and personal life more effectively.
See What Employees Say.
The company's current employees can also provide valuable insight into what it's like working there. Use reviews on hiring sites, such as these reviews about Cordell & Cordell law, to see unfiltered feedback about the corporate culture. You can get some more honest insight into the real experience of what it's like to work there with reviews from current and past employees. If the reviews match what you're hoping to experience in your own career, you may want to go ahead and accept an offer.
Ask Questions at Your Interview.
During your interview with the company, be sure to put your needs on the table and ask questions. Don't sit silently when your interviewer is done evaluating your readiness for the position. It may be smart to ask about the daily responsibilities of the position, the training process, why other employees have left, and other topics that help you make a decision.
Research the Company's Mission Statement and CEO.
As you're thinking through your decision about whether or not to accept a job offer, do additional research about the company's mission statement and CEO. Look for the company's corporate details online, such as this information about Cordell & Cordell that details the founding date, number of employees, and more, to help you get more background about the organization.
Read Their Social Media Posts.
Lastly, social media is a great window into the personality of a company or a brand. Be sure to go through the company's tweets, Instagram, and Facebook posts to get a better sense of the corporate values. You can also see how the company responds to various forms of feedback posted to their social media profiles from customers or other stakeholders. Look for polite, friendly, or helpful responses from the company and social media posts that promote positivity and fun within the organization.
The right corporate culture can make a big difference in your overall job satisfaction and career progression. Choose an organization that values its employees and puts an emphasis on creating a happy work environment.