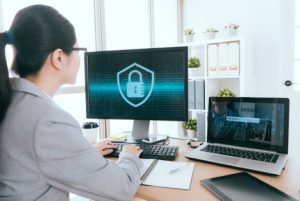 60% of small businesses close shop six months after a cyber-attack. No, the problem is not that most haven't been investing in cyber security tools. The issue comes in how they prepare for the grey areas that come with business growth and shifts in the threat landscape.
For some of these businesses, cyber-attacks come as a shock. Ideally, the only way you can build a sustainable future for your business would be through getting ready for what the future holds.
While it can be borderline impossible to cater to all grey areas security-wise, it pays to try your best to face your future threat landscape with some confidence.
Here is how to future proof your business against ever-evolving cyber threats:
Establish an Effective Risk Management Plan.
A risk management plan helps to improve the visibility you have into your threat landscape. It points out the number of risks that you face, the best ways to cater to them, and whether the risk treatment options you chose are working. To start, you will create a list of your current and future cyber-security threats.
Next, measure the potential impact that they can have on your business and use a risk assessment matrix to rank the different risks. Not only will this help you in prioritizing the risks, but in also identifying the best treatment options for them in line with your scarce business resources. However, a risk assessment plan is not a one-time project; you will need to keep on monitoring it from time to time.
In case your business' orientations towards certain risk factors changes or new threats arise, you should be ready to update it accordingly. Additionally, everyone in your organization should understand the role they play in managing the risks. With a top-down approach towards cyber-security, it becomes easy to eliminate the chances of human error.
Why Risk Assessment Matters.
1. Improve Your PR Approach.
Going through a cyber-attack can be a PR nightmare. Other than reducing customer's trust in your business, it can lead to the loss of critical investors. It might also make it tough for your business to proceed with working with security-conscious vendors. With a risk management plan by your side, it becomes easy to identify the risks you face and prevent them from causing any PR issues down the line.
2. Using Resources Effectively.
When building a robust cyber-security framework, huge budgets aren't always synonymous to a great security posture. Ideally, you need to invest in the right tools for the right purpose, especially when resources are scarce. For instance, a small organization of twenty employees might not benefit from an access control system as much as a larger organization would. Sometimes, proper VPN implementation is all you need (our friends over at VPN Mash can help).
The trick is identifying security assets that will generate the best ROI and use them effectively.
3. Improve Internal Communication.
When cyber-calamities occur, chaos will ensue in your organization. Without the right preparation, it might be possible to make the situation worse through poor communication. The individuals in IT should communicate with the executives and PR teams to help deal with the threat.
On the other hand, executives need to understand their roles and know when something needs to be done. A risk management plan helps you to choose risk treatment options that communicate the best way to deal with threats. As a result, when disasters occur, everyone can commit to their roles entirely. It also becomes easier to pass on messages on the progress of dealing with the threat at hand, which can be crucial in protecting your business.
4. Improve Employee Awareness.
With 90% of cyber-threats coming to life due to human error, lack of awareness is a massive part of the problem. An employee that doesn't know how to differentiate between phishing attacks and genuine emails is likely to open the former. The trick lies in your entire IT governance and how you train employees. When you have a risk management plan by your side, it becomes easy to identify the key training areas and how to go about it.
Be Ready to Follow Regulations.
Rules such as the GDPR are slowly changing the cyber-security landscape. They challenge how businesses deal with their data and have the interest of key stakeholders at heart. Since more regulations are bound to come up in the future, it is ideal to ensure that your business is compliant.
Of course, most of these regulations only outline the threshold security requirements, something that a company that has an effective cyber-security framework can comply with quickly. However, it still counts to have an elaborate plan on how to handle compliance. For instance, having a specific department for dealing with it can save you from the hefty fines of being non-compliant. Even better, complying with the changing regulations makes your business more attractive to work within the eyes of both clients and investors.
Invest in Data Analytics Tools.
Business data is a cyber-security gold mine. It can portray patterns that cannot be identified by merely brainstorming the security issues that your business faces. For instance, access control data can help you unearth any insider threats that might occur right under your nose. Additionally, monitoring log data can help identify security loopholes in your applications, which would otherwise be quite costly.
Invest in data monitoring, and analytics tools to be steps ahead of any security threats. Remember, each second counts when looking to protect your business' reputation. You should also consider hiring professionals in the field of cyber data analytics to improve your chances of success.
Invest In the Cloud.
Although cloud computing has gone mainstream in the business world, some businesses are still skeptical about using it to run their business. For some, the fact that they already have well-established data centers in-house makes cloud migration tough. However, the security risk that lies in these in-house data centers is quite high, from system breakdowns to insider threats. Even worse, it costs a lot to run them with most businesses needing to invest in cooling systems as well as renting spaces for their servers.
The good thing about the cloud is that you can access your data from anywhere at any given time. Even better, you can beef up your security concerning who can access your sensitive data. As for business growth, cloud systems are entirely scalable; you can upgrade or rollback subscriptions with regard to your business needs. Lastly, you can always embrace the hybrid cloud to enjoy the best of both in-house server and cloud environments.
Focus On Employee Training.
Investing in state-of-the-art security tools will mean nothing as long as you haven't adequately trained your employees. When all hands are on deck, cyber-security becomes a walk in the park. However, how you train your employees is equally as important as the content of the training sessions.
It will be counter-productive to take your workforce through long and mundane PowerPoint sessions. Instead, improve the learning experience through utilizing gamification, micro-learning, and e-learning, among other advances in employee training. You should also diversify your sources of training content to improve the quality of the training sessions.
The security posture of your business will determine its sustainability. As more threats are thrown at it, you should be ready to circumvent them. Consider the tips above to fortify your cyber-security posture.