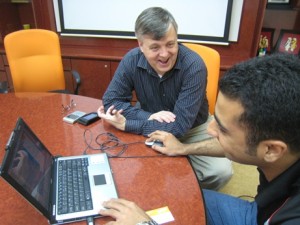 If you find yourself lifting others up through advice or encouragement to live their best lives, life coaching may be a fulfilling career to pursue. With flexibility in both hours and the people you can help, the best part is that becoming a life coach is possible at any point in your career.
Becoming a life coach requires obtaining certification through a program accredited by the International Coach Federation (ICF) and learning the career development skills you need to launch this next chapter. As a certified life coach, you have the option to begin your own private practice or become employed through an organization. Life coaching brings a wide range of opportunities such as coaching clients, writing a book, consulting with companies, developing a product, or simply sharing your message online.
Explore the following nationally-recognized certification programs as you decide which is the best life coach certification program for you.
Coach Training Alliance (CTA).
More than any other program, coaches generally agree that the gold standard in life coach certification is the popular Certified Coach Program offered by Coach Training Alliance (CTA).
What to Expect: You can expect to complete your CTA program in six months' time. The program delivery of its Coach Training Accelerator provides the system and accountability you need to succeed as a life coach. CTA delivers its curriculum through varied teaching styles including live teleconferences, interactive software with testing, as well as a library of resources. You can also expect access to expert coach mentors that are available for individual questions throughout your program.
Why CTA: CTA provides an approach to learning that centers around real coaching experiences you can expect in real life. This foundation is provided through small class sizes of 12 students with opportunities to conduct practice sessions and exercises. What makes CTA stand out is its business and marketing courses for students of all professional backgrounds. This curriculum will help you brand yourself as a coach whether you become self-employed or sell your coaching services to a large company.
Investment: $3,147 with payment plans available along with fast-track program options. As you'll see, CTA is also one of the most affordable accredited coaching certification programs on the market.
Institute for Professional Excellence in Coaching (iPEC).
What to Expect: iPEC offers a dynamic approach to learning with its mostly-online program and in-person learning conferences. You can expect over 350 hours of training material and modules to learn the foundations of coaching. You will also attend a live session in one of iPEC's national conference locations where you will experience peer practice sessions. These live sessions will also provide mentorship and feedback from iPEC instructors. Your curriculum will follow iPEC's Core Energy Dynamics programs which have been developed for over a decade. Lastly, iPEC offers specialty paths within your certification program so you can leave with a niche coaching brand.
Why iPEC: The ability to learn the foundations of coaching followed by a natural guide into your specialty make iPEC an attractive program option for those who know they will "niche down" early on. These specialties include career coaching, health coaching, purpose and fulfillment coaching, and even organizational coaching.
If you are an outgoing person looking to expand your network, you will also love the live sessions where you can connect with others in the same position as you. This community expands after your course is complete as well, with access to a library of alumni. iPEC also offers business development courses to support your post-certification career.
Investment: $9895 for over 350 training hours.
CoachU.
What to Expect: CoachU offers a unique Advanced Coaching Program along with continuing education options for post-certification. Through CoachU, you can expect the option to become an Associate Certified Coach, Master Certified Coach, or a Professional Certified Coach. Each program option prepares you for general life coaching success, the option you choose depends on the level of expertise you'd like to brand yourself with in your career.
You can also expect your program to be delivered through its Core Essentials Program, which precedes its advanced program options. CoachU programs are delivered fully online, with the option to upgrade to in-person training sessions for individual attention.
Why CoachU: The multi-level approach to CoachU programs is perfect for the student who is unsure of how deep they are ready to take their life coach training. The Core Essentials Program naturally leads into the advanced program options for your continuing education, and you can practice as a coach with the basic program. The Advanced programs include specialty trainings for skills such as linguistics and learning how to develop an effective coaching program.
CoachU also boasts a strong ethics curriculum so you can learn best practices of coaching. If you are interested in coaching in a corporate setting, you will find the advanced sections challenging and comprehensive so you can lead organizations to success. The learning methods of practice sessions, staff mentorship, and development of behavior change techniques are available throughout each program package.
Investment: $3195-9290 for varying program packages, payment plan options, and methods of learning.
Conclusion.
Each of these programs offers a complete understanding of coaching and the techniques required to succeed. Although the additional specialties and add-ons of iPEC and CoachU are of incredible quality, CTA is the most comprehensive program if you are looking to master the foundations of coaching.
You will benefit from its business mastery sections, and CTA follows the philosophy of training you to be an effective coach first before adding additional curriculum. You will feel completely prepared with the value of CTA for its investment and its learning methods are seamless to stay on track with.
To become certified, you will need to research ICF-accredited programs to find the best fit for you. Life coaching is extremely personal and you will want to research the coaching philosophies behind each program to ensure it aligns with your approach to helping others. You will also want to consider program prices and how long it will take to become certified.
Depending on your current schedule, you may prefer self-study options or fully immersive programs with in-person learning opportunities. Your potential programs will also offer varying learning methods, add-ons, options for specializing, and even continuing education upgrades.
Consider these factors as you choose a coaching program from the best in the nation to begin a fulfilling career helping others live their best lives.