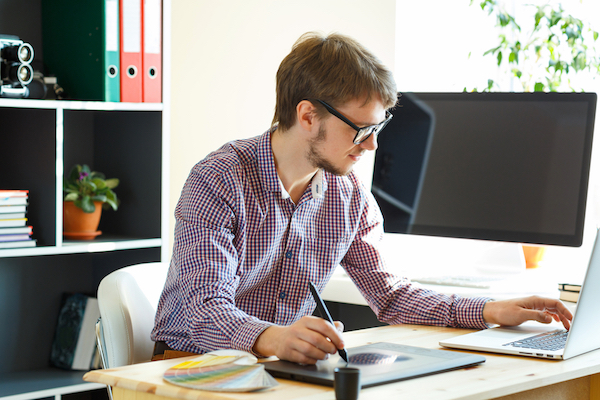 Home-based businesses have been around for decades, even before computers were a standard in every home in America. In the 1980s, the most popular home-based business was word processing services. Today, home-based businesses range from varied computer services, coaching, massage therapy, and even counseling.  
Once you get a taste for it, running a home-based business is a convenience you don't want to lose. The happier your clients are, the more business you'll retain.
Regardless of your industry, here are five ways to keep your clients happy and feeling appreciated:
1. Be flexible.
It's unrealistic to expect clients to be exactly on time and always keep their appointments. Being flexible will go a long way. While you don't want to let clients walk all over you, it's important to be flexible enough to flow with life's demands.
Remember, not everyone has the luxury of setting their own schedule. Most people – including your clients – have to work around a schedule set by someone else. When one aspect of their day changes, it pushes everything around. Your clients probably have other priorities like children and pets. Be understanding when they need to reschedule or cancel at the last minute.
2. Ensure clients have a safe place to park.
Parking is a major source of frustration. According to USA Today, American motorists spend 17 hours each year searching for parking spots. If you're located in a busy downtown area without ample parking, you might lose some new clients when they see your parking situation.
If you don't have a driveway to park in, your clients will need to park on the street. Some clients won't feel comfortable parking on the street in certain neighborhoods. If the street parking is full, they may need to park in a garage and walk several blocks back to your house.
The solution is to give your clients your parking spot to make their visit as convenient as possible. If you have clients coming and going frequently, you may want to start parking on the street regularly so you don't need to run around at the last minute to find street parking.
3. Ensure clients have a clean place to park.
Finding parking in the city is tough, but in the country, you've got other issues to worry about. Dust, dirt, pollen, and tree sap are unavoidable in many areas. You might be used to having a dirty car all the time, but your clients probably won't like it. Especially if they're from the city. There's nothing like going in for a simple car wash and being told you need an expensive clay rub to get the tree sap off.
If you live on a large property out in the country where clients can park anywhere, set up at least one car shelter to provide covered parking. If you often have more than one client over at a time, get two. If you've never had a car shelter before, once you get one for your clients, you'll want one for yourself.
4. Set up a self-serve station for water.
Set up a water jug with a spout and some clean cups wherever you spend time with clients. Some clients feel awkward asking for a glass of water, even when they really need it. Making water available to clients to grab whenever they need it will make them feel more comfortable in your office and with you.
5. Mail cards on special occasions.
Once or twice a year, for a holiday or birthday, send your client a physical greeting card thanking them for being your client. Be sure you know what holidays they do and don't celebrate before sending a card.
Don't overdo it, and don't get too personal. Avoid sending anniversary cards if you've never met their spouse. If you've sent a card for your client's birthday last week, don't send one for a holiday coming up next week.
The best cards are the ones without reason. Completely unexpected, and authentically written in appreciation for their continued business.
Tell your clients you appreciate them.
While there are plenty of ways you can show your clients appreciation, nothing beats telling them directly. Next time you part ways with a client, let them know you appreciate doing business with them. You'll start to build stronger rapport, and they'll be more likely to refer you to other people.