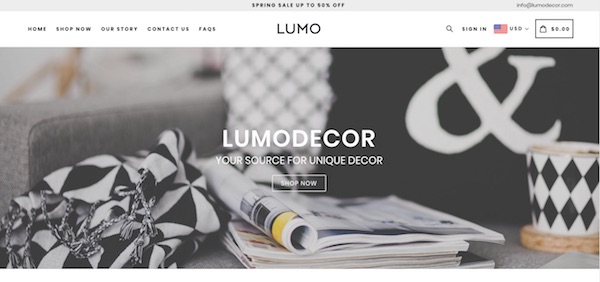 Home businesses today are getting a lot of attention as customers now are looking for one-of-a-kind products curated and customized for them. As an owner of a home business, you bear lesser costs because you don't have to worry about paying rent for office space or commute. When it comes to your business, you also get to be your own boss and take independent decisions. With nobody to fire you, home businesses are a great way to experiment with products and creative marketing strategies!

Exchangemarketplace has two such e-commerce home businesses that are now up for grabs – 'Everything a girl wants' and 'LumoDecor'!
Here's a review of both these businesses for you to quickly decide which one you want to put your name on.
Everything A Girl Wants.
Everythingagirlwants.com sells an exclusive handpicked collection of clothing, beauty, accessories,  homeware, and pet care products. Everything A Girl Wants has good potential to grow with the right digital marketing strategies. With a good chain of suppliers and followers on social media, the buyer only needs to spend about 12 hours a week to maintain this business.
The average revenue being earned by everythingagirlwants.com is $20,057 per month with an average sales of 700 products per month. The business has been seeing an average profit of $11,500 per month with a 31% profit margin. The website has an average of 18,991 sessions/month. Some additional costs the buyer would bear when purchasing this e-commerce business includes:
$29/month on a Shopify plan

$1/month on domain

$10/month on apps
Everything A Girl Wants has gained a total revenue of $80,229 since it kicked off. The e-commerce website is up for sale on Exchangemarketplace for a total of $55,000. The website gained total traffic of 75,967 sessions in the past five months. The sale of the website includes product photos, supplier contacts, logo and branding assets, domain name, and social media handles.
If you are an aspiring entrepreneur, buying this home business would be a good option for you because the seed here is already planted and all you have to do it is water it every day!
LumoDecor.
Lumodecor.com is an e-commerce website that sells affordable and unique home decor. The website also offers free worldwide shipping. The owners of the website have good supplier contacts and offer the lowest price available on the market. With total traffic of 112,836 sessions, this store has a conversion rate of 3.7%.
With an average revenue of $29,251, the company makes an average sales of 2,458 products per month. The company keeps a profit margin of 20% gaining an average profit of $10,749 per month. The business website receives an average of 28,209 sessions per month. The buyer of this website can easily continue this home business as the owners of the website have a good foundation in place with reliable suppliers and access to a niche market. The additional costs that the buyer would bear on a monthly basis are:

$79 on Shopify plan

$1.17 on the domain name

$400 on employees

$70 on Facebook Ads

$70 on Shopify Apps
The company has witnessed a total revenue of $117,003 since its inception in July 2018. The company is up for sale on exchangemarketplace.com for $21,000. The purchase also of this business includes product photos, domain name, supplier contacts, a mailing list of about 5000 subscribers, logo and branding assets, social media handles with 4,500 followers. Moreover, the owner of the website will even help you get into this business' groove for the next 2 months!
Both these home businesses are a great choice for people looking to get into the business game. Home businesses are a great start because it comes with fewer investments and costs. It lets you spend time with your family as well as maintain your business side by side.
Check out Exchangemarketplace.com for more business opportunities.